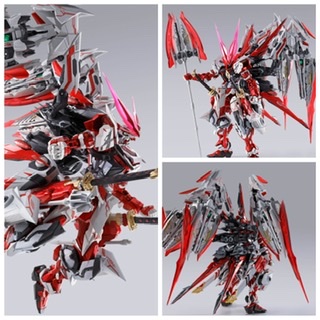 Orders for "METAL BUILD Gundam Astray Red Dragonics" will begin at 18:00 on February 18, 2022 at Premium Bandai's Tamashii Web Shop. Images and full item description
Red Dragonics, a new form of Metal Build Gundam Astray Red Frame, is now available! A 3D figure based on the latest design drawn up by Junichi Akutsu, mecha designer, for Metal Build.
It has a powerful beam effect antenna in the head part, and a horrific, new Neo Caletvwlch weapon, a revised Caletvwlch. But even these are transcended by the design form thrust forth by the entire figure.
The Red Frame figure legs and lower body have been completely re-modeled, and the figure comes equipped with gimmick mechanisms so you can fix it in a crouch or other flexible poses. And check out the crisper design achieved thanks to changes in the coloring and markings from Metal Build Gundam Astray Red Frame Kai (Alternative Strike ver.) (sold separately).
This product's accessory, Neo Caletvwlch, and also Metal Build Caletvwlch (sold separately) can be attached to the new weapon, Caletvwlch Javelin. The decorative effect is also expanding.
*This item cannot reproduce "Gundam Astray Red Dragon".
Product Description ・Main body
 ・Exchangeable hand left/right x 5
 ・Antenna
 ・Antenna with effect
 ・Beam Rifle
 ・Anti-Beam Shield
 ・Gerbera Straight x 1 set
 ・Tiger Pierce x 1 set
 ・Gerbera Straight/Tiger Pierce joints x 2
 ・Beam Saber Handle x 2
 ・Beam Saber effect parts x 2
 ・Flight Unit x 1 set
 ・Backpack x 1 of each type (for Astray / for Strike)
 ・Flight Unit Top Booster
 ・Flight Unit Left/Right Side Booster
 ・Neo build torch x 3
 ・Neo build cutter x 3
 ・Neo build knife x 3
 ・Neo caletvwlch base x 3
 ・Rear skirt binder
 ・Left/right leg booster
 ・Caletvwlch Javelin
 ・Sword joint x 2
 ・Dedicated stand x 1 set
 ・Auxiliary pedestal x 1 set
 ・Various joint parts set
Product Material ABS, PVC, Diecast
Product Size Height: approx 7.1inc
METAL BUILD GUNDAM ASTRAY RED DRAGONICS
US$ 380.00