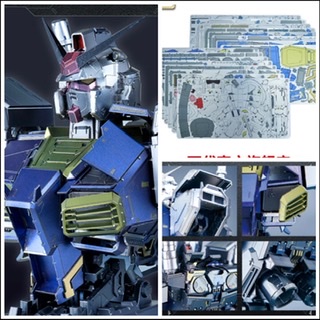 BN METALWORKS Vol.1 RX-78-2 Gundam, limited to China, released in June 2022: many images and full info
In June 2022, "BN METALWORKS Vol.1 RX-78-2 Gundam" will be released exclusively at the Bandai official flagship store in China.
Description of item
BN METAL WORKS Buildup & New Generation
BANDAI NAMCO x Pea School
joint development
Metal model series assembled from metal-etched sheets
The famous IP "Gundam" is reproduced with new materials and designed in collaboration with famous companies in the industry.
The new "new material" is a new challenge, and at the same time, the finish should be different.
volume up
BN Metalworks Buildup & New Generation
RX-78-2 Gundam
Earth Federation Forces Prototype Close-quarters Mobile Suit
Recommended assembly time: 18 hours or more
Metal plate
metal parts
Ace pilot
It takes about 18 hours to assemble this product, but the actual time depends on your proficiency level.
Model size ~ L22cmxW16cmxH20cm
Some parts can be assembled by choosing to open or close. When you open the parts, you can see the mechanics inside.
The sheet metal that draws a complicated curve faithfully reproduces the characteristic head shape of Gundam. The sheet metal reflects the original details of the special design, and realizes the texture and realistic modeling unique to metal.
Based on Mr. Kunio Okawara's original Gundam, the Gundam illustrator representing China has reinterpreted it, not only restoring the basic design, but also adding abundant internal structures and details, making it a model that is easier to play and enjoy.
BN METAL WORKS Vol.1 RX-78-2 GUNDAM
taobao.com