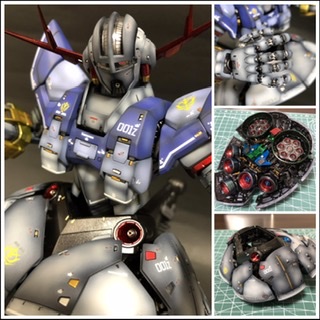 Improving the RG 1/144 Zeong: images, full info and credits
RG Zeong has been completed. Gradation painting with black start-up. I put highlights on almost all of the matte parts so that I could get a three-dimensional and profound feeling
The parts were fine and difficult, but I think that if the kit is nicely painted, it will be a great ki
Gradation painting, matte and metallic were mixed like this to get the overall contrast
Since there are many parts of the inner frame that can be seen from the exterior, I used metallic to paint them separately so that they would not be monochromatic. The exterior is matte and finished in a gray base, so the inner frame that looks into bright gold and silver is a glittering and beautiful accent.
I think Zeong's highlights are the vernier and hand parts inside the skirt Metal pins are attached to the base of the front and rear vernier, the inside of the rear is painted with red candy, and the cover is painted with polarized paint. The front vernier is painted with clear green candy under the Star Bright Iron. The pipe part of the fine detail inside was painted with chrome silver with a fine brush
Metal parts are glued in various places Head, waist, skirt, finger apogee motor. Monoeye is a standard processing of Haikyu parts and H Eyes
I painted the cylinder of the arm etc. so that it does not become a single color, and I applied the decal because I got the official decal
Inside the skirt. The cylinder of the vernier was sandwiched between two parts, but I painted it separately on the base and the cylinder part
Also, the details in the back are hard to see, but since I painted it with a fine brush,
The toughest part of this kit is this hand part integrated with the ABS part
The frame part is painted with masking to make it metallic. Also, since the gate comes to the center of the finger, it was treated neatly with a design knife, and the molds on both ends were painted with enamel black with a toothpick
Parts divided for each part after finishing the painting of the whole process
This cut just before assembling is the most exciting I think that it is a kit that makes use of gradation painting. By adding highlights, the depth is further increased, and by painting the exposed internal frame separately, I feel that the amount of information has dramatically increased.
The decal for UP on the exterior of the skirt seemed to be too much, so I applied a fine decal around the mold so that it would not be noisy.
head. Monoeye painted with candy paint, matte, metal parts, and fluorescent pink The inner frame is also painted separately. Fill up the metal parts on the mouth and both sides.
Work by ピロリ大佐
@piroritaisa on Twitter