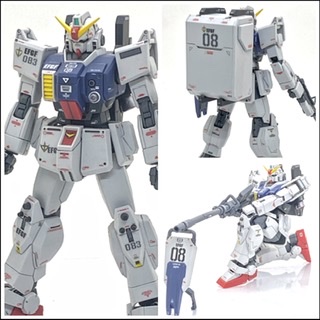 ウサ男's HGUC No.210 RX-79[G] Gundam Ground Type: images, description and credits
Painted areas and color recipes
Machine gun barrel, outside vernier, chest Vulcan gun → (Gaia) Frame metallic (1)
Yellow part → (Creos) New Gundam color Yellow
Machine gun body, shield hook, etc. Gray part → (Creos) Neutral gray
180mm Cannon → (Gaia) Mechasa Flight
The parts other than metallic are sprayed with (Creos) Mr. Color GX Super Smooth Clear at the end.
The decal was mainly for HG Unicorn Gundam, which was included in the ground battle type Gundam set. I used a special decal, but EFGF (Earth Federation Ground Force), which means the Federal Army, is not a decal, so HGUC's Gundam Ez8 There is a black and white notation on the sticker, so I used it. The shoulder markings are pasted as they are on the MG. The 08 marking on the shield has a better finish on the decal, and the 08 platoon does not have the Gundam decal, so the decal on the ground battle set is useful.
I love Gundam Ez8, so I thought that Gundam Fix would be a figure for both Ground battle type Gundam, but it was a pity that the development was completed before it came out. The old HGUC also has a decent range of movement and the proportions were good, so I mentioned it earlier, but I thought that there was no need to remake it, but the new HGUC has been upgraded in all, and there are almost no seams, so it is beautiful. Bring it to finish. However, you should be very careful when disconnecting the antenna because it is easy to break (I also broke it, repaired it and painted it).
Carry a weapon container on back … It's quite heavy, so you're likely to fall behind. Actually, the ground battle type Gundam was completed about 3 years ago, but at that time I did not make a container and 180 mm cannon, so I made it for this time. It's not a decal, it's all leftover marking stickers, so the steps are still noticeable. However, the design of the marking sticker is also good, so I thought it became Katoki-like.
In the play, there is an image of fighting with a weapon container on his back, so I thought this would be more suitable. The decals are attached in the same way as the BD-1 and BD-3 that I made earlier, giving a sense of unity as much as possible. A beam rifle was also attached, but the color coding is very excellent, so I turned it to Gundam Ez8.
The last is a manual.
Many of the completed samples of Gundam Fix were stylish and clean, but this time the ground battle type Gundam aimed for such a thing … I wonder if I got closer to it. The new HGUC ground battle type Gundam has almost no seams and has a large number of weapons, so it is fun and recommended for beginners even if it is unassembled. It is good to make it neatly, but since it is a ground warfare MS, if you add dirt, it will give you a more atmosphere, and if you do it with pastel etc., it will not be difficult and it will be moderately dirty and it will be cool.
Work by ウサ男 on Twitter