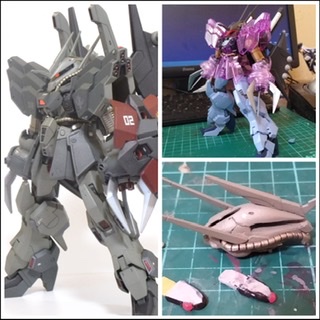 Mixing Build HGUC 1/144 Hamma Hamma II (full images, info and credits)
I have used Todesritter and Rozen Zulu.
"It's a good mobile suit that doesn't lose its elegance and elegance even in its strength. It's like a rose …"
So I aimed for an image that seems to appear in Gundam ZZ.
The stabilizer-like thing that grew on the face and back was the old Kit Doven Wolf, and the neo-zeon feeling was important.
The one I did my best this time was the face. I made it by scraping the face of the old kit Doven Wolf.
When I took a picture in the test, the mono eye was too deep to see at all, so I used fluorescent paint for the first time
I also lit the wing tip light and the chest sensor.
RE / 100 Hamma Hamma Box Picture Style Pose
I lost the lead wire, so I used a wire instead, but I can fix the incom without any support.
rear
I attached the wings of the Todesritter upside down.
It seems that the time is near in terms of settings, so it seems to be a good match.
front
I wanted to shoot with a tilt, so I added frame-like details inside the rear skirt.
Gaia Notes' Pearl Rose Deep Red is a bitter shade while inheriting the original image. This is a nice color.
Early stage
Actually, there was a past when I was frustrated trying to make the old kit Hamma Hamma look cool, so I was planning a plan with Rozen Zulu. I was thinking of a slender one while cluttering legs, but since Rozen Zulu is relatively large, I didn't have many choices, so I used Todesritter.
The face is the old Kit Doven Wolf, but I thought that I could get rid of it.
The face and chest parts are self-made. I made it in my favorite shape while keeping the image of Hamma Hamma.
I wanted to move the mono eye because the neck doesn't move much, but it seems to be difficult to make the face movable after making it, so it's a replaceable type.
Remove the maintenance panel on the back of the head and peck it from behind
Body color (dark): Creos No.312 Green FS34227 + No.302 Green FS34092 + Navy Blue, Black, Brown, Silver Small amount
Body color (light): Hexa dark green + white, a small amount of silver
Chest, rear binder: midnight blue + silver
Thruster etc. Red: Pearl Rose Deep Red
Power pipe, etc .: Titanium silver + titanium gold
Joints: Stealth Gray of Model Kasten (1)
Other mechanical parts: Mecha Suff Heavy
Propellant Tank: Creos No.306 Gray FS36270
Model Kasten's Stealth Gray (1) is a subtle greenish metallic color for current stealth aircraft, and it's a great color to recommend, but it's hard to tell from the photos.
I used fluorescent paint, but the whole thing turned purple with 100% UV light, so I hurriedly bought a penlight type with a peak wavelength of 375 nm and tried it, and it worked as intended.
It is a cheap one with a short wavelength that you can buy on amazon. I only had to shine the mono eye, so this was enough for the time being.
Work by .Nu
@Nu_nmz on Twitter