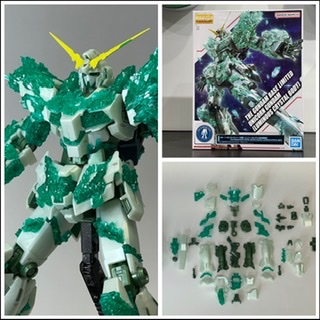 Review: assembling the Gundam Base Limited MG 1/100 Unicorn Gundam Luminous Crystal Body
Limited edition Gunpla commemorating the 5th anniversary of Gundam Base
MG 1/100 Gundam Base Limited Unicorn Gundam (Luminous Crystal Body) Crystal of Light) is now available!!
Release date: Monday, August 22, 2022
Price: 7,700 yen (10% tax included)
* Advance lottery will be held for this product.
In commemoration of the 5th anniversary of Gundam Base, the form that appeared in the final phase of "Mobile Suit Gundam UC",
Unicorn Gundam (Luminous Crystal Body) is finally made into an MG kit.
The body adopts a metallic color molded color that is inspired by the play, and the whole body reproduces the glittering crystal body with a new molding.
In addition, the damage representation of the armor of each part of the fuselage gives it a finish suitable for calling it a crystal of light or Luminous Crystal Body
Comes with an action base 4 with lame inspired by outer space. It is possible to reproduce the scene in the play.
Emotion manipulator SP with movable joints is included. Various expressions are possible.
The package art reminiscent of the final stage in the play is a masterpiece.
*This product can only reproduce Destroy Mode (Luminous Crystal Body).
Transformation to Unicorn Mode and Destroy Mode (Normal) cannot be reproduced.
This time, we will report on the production of this product!
Don't miss it till the end!!
Introducing the runners!
First, let's start with the assembly instructions and seals!
This is a photo review done by Gundam Base Net.
Enjoy