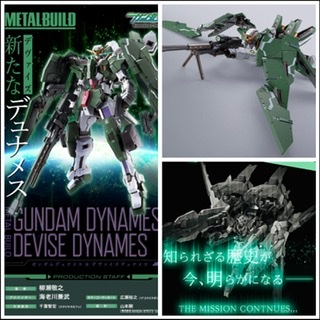 METAL BUILD Gundam Dynames and Devise Dynames will start accepting orders from 16:00 on October 31, 2022 at Tamashii Web Store. A lot of new official images and full item description
From 16:00 on October 31, 2022, orders for "METAL BUILD Gundam Dynames & Devise Dynames" will start at Premium Bandai's soul web store.
Description of item
"Gundam Dynames" appears in the METAL BUILD Gundam 00 series.
Under the supervision of the original designer, Takayuki Yanase, the main body and each armament have been created.
A full shield that incorporates METAL BUILD's original movable mechanism expresses a new silhouette when shooting.
By attaching the GN Device Backpack to the back, it is possible to convert to the "Gundam Device Dynames" that appears in "Mobile Suit Gundam 00 Revealed Chronicle".
The backpack can be equipped with various parts, including separately sold weapons, allowing you to enjoy recreating various forms.
Appearance work: Mobile Suit Gundam 00
Main product contents 
・Body
・Replacement wrist left and right 4 types each
· GN sniper rifle
· GN sniper rifle replacement bipod
・Various joints for GN sniper rifle
・Shoulder shield left and right
・GN full shield left and right
· A set of shield holsters
· GN beam pistol x 4
· GN beam pistol holder x 2
・Beam saber grip x 2
・Beam saber effect x 2
・Back joint
·Backpack
・Replacement wrist for backpack x 2
・Left and right joints for Astraea
・ Conversion joint x 2
・Exclusive pedestal set
・ A set of auxiliary struts
 Main product materials  ABS, PVC, die-cast
Product size  
Overall height: about 180mm
Sales price: 28,600 yen (tax included)
Delivery date: Scheduled to be shipped in May 2023