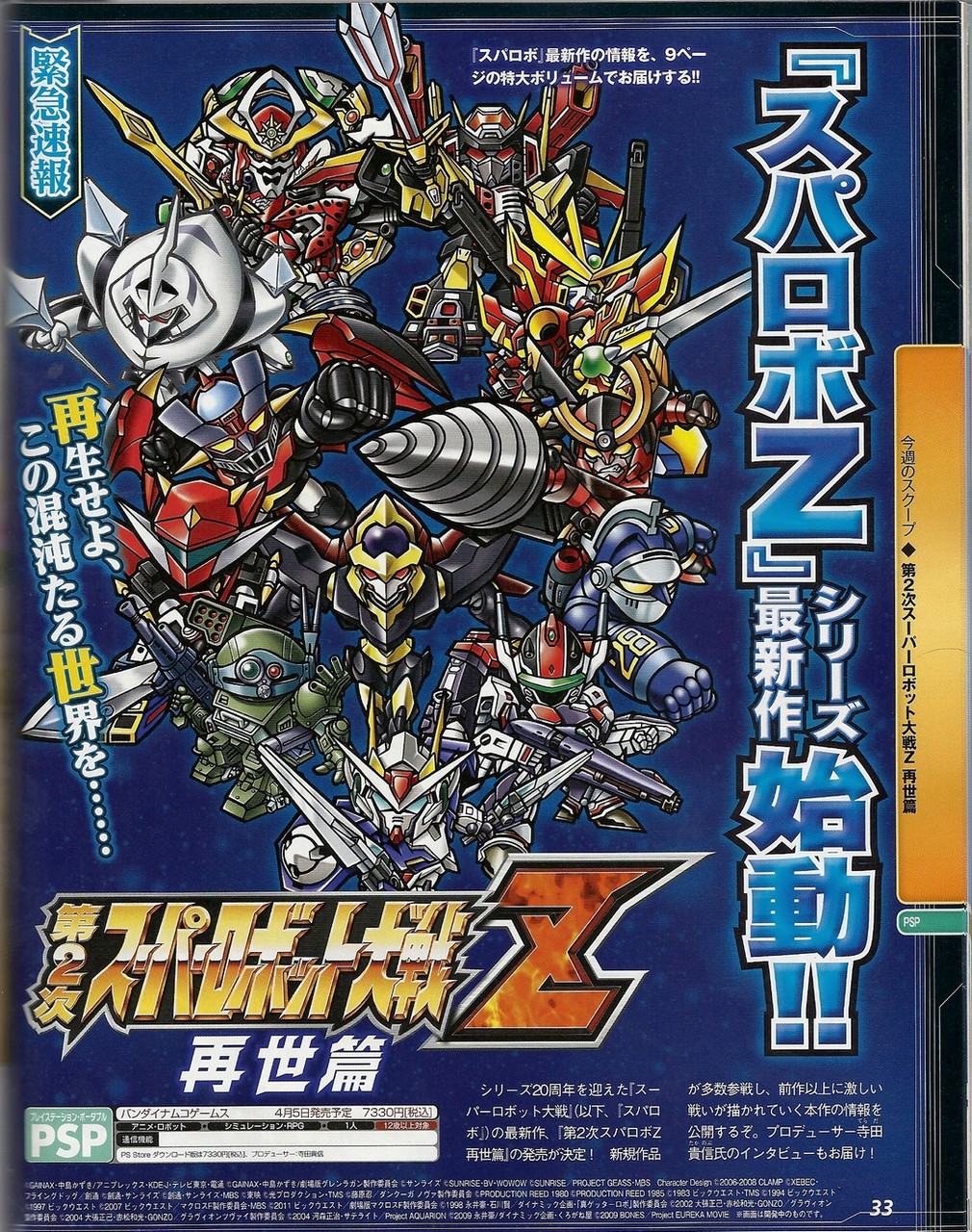 Super Robot Wars Z II Adds Gundam 00 & Anime Sequels, Full List & BIG SIZE Scans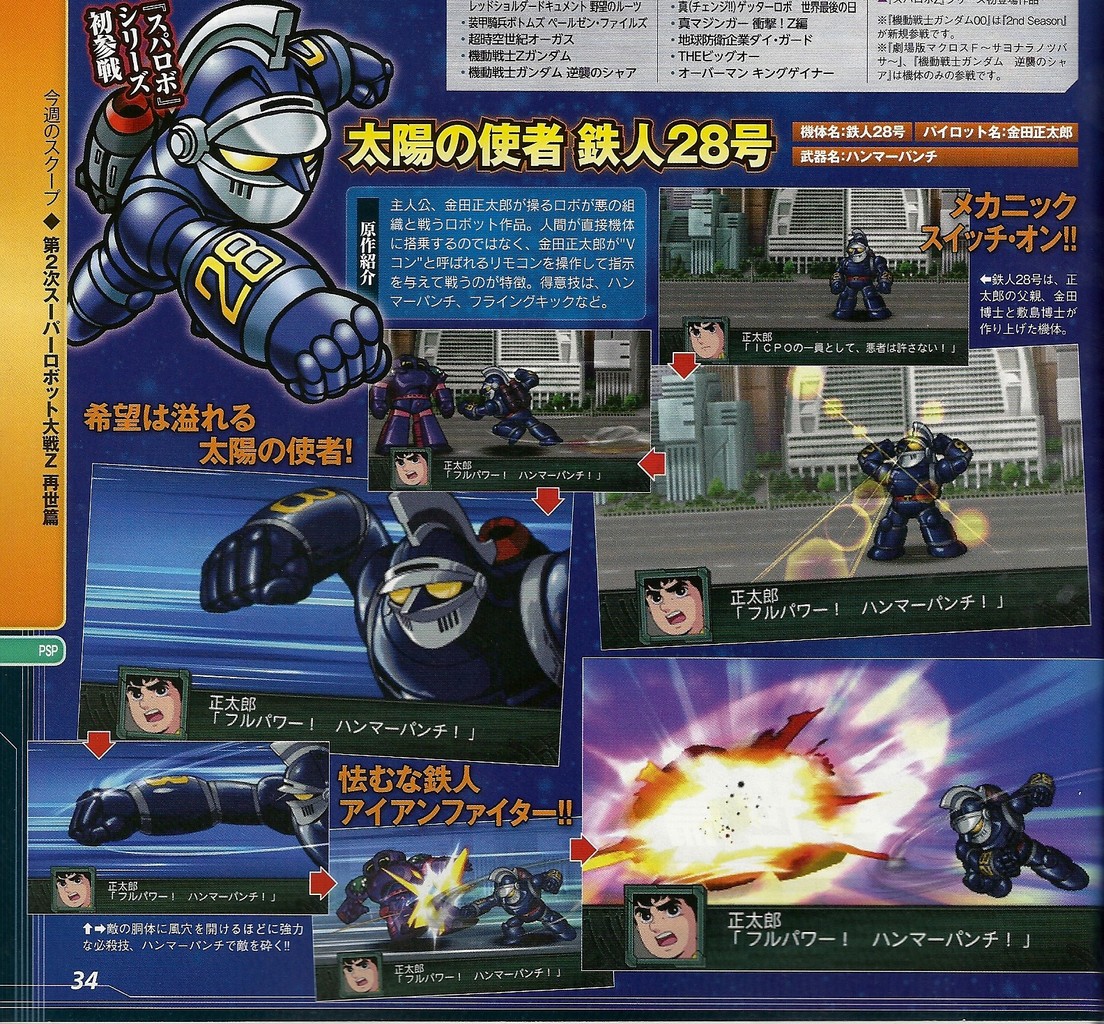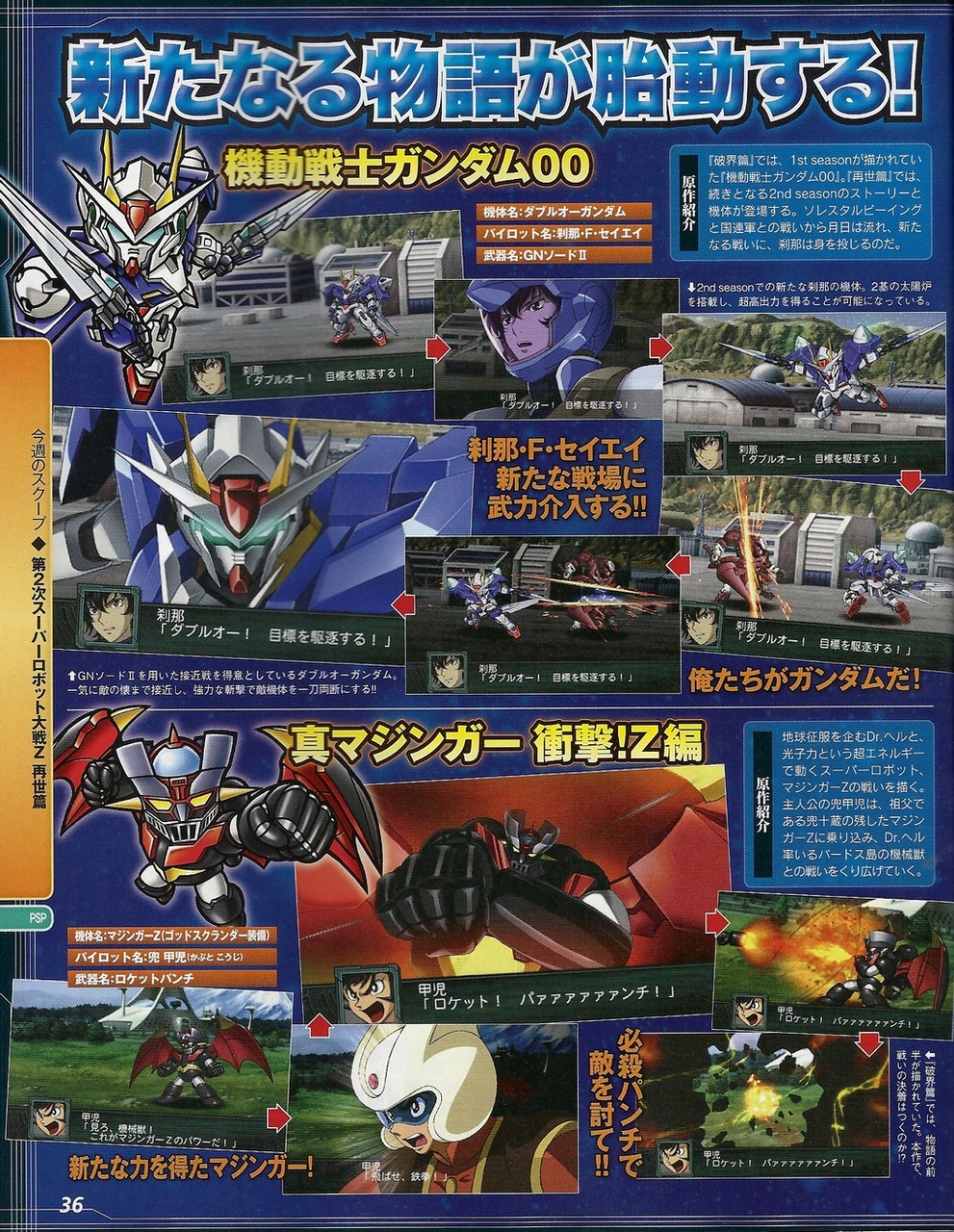 Armored Trooper Votoms
Armored Trooper Votoms: The Last Red Shoulder
Armored Trooper Votoms: Red Shoulder Document – Roots of Treachery
Armored Trooper Votoms: Pailsen Files
Mobile Suit Gundam 00 (1st Season)
Shin Mazinger Shōgeki! Z-Hen
Chikyū Bōei Kigyō Dai-Guard
Code Geass: Lelouch of the Rebellion
Tengen Toppa Gurren Lagann
Tengen Toppa Gurren Lagann: Guren-hen
Macross Frontier: Itsuwari no Utahime
Eureka Seven – good night, sleep tight, young lovers
The game will also retain elements from the following titles which were in previous Super Robot Wars games, including the first Super Robot Wars Z.
Muteki Chōjin Zanbot 3
Muteki Kojin Daitarn 3
Muteki Robo Trider G7
Space Emperor God Sigma
Space Warrior Baldios
Rokushin Gattai God Mars
Combat Mecha Xabungle
The Super Dimension Century Orguss
Mobile Suit Z Gundam
Mobile Suit Gundam: Char's Counterattack
Mobile Suit Gundam Wing
After War Gundam X
Turn A Gundam
Mobile Suit Gundam Seed Destiny
Dancougar – Super Beast Machine God
Juusou Kikou Dancouga Nova
Getter Robo: Armageddon
The Big O
Overman King Gainer
Super Heavy God Gravion Zwei
Sōsei no Aquarion
Macross Frontier
The Super Robot Wars Z 2 sequel is split into two parts. The above information refers to the first part, Super Robot Wars Z 2: Hakai-Hen. Thanks, Charred Knight.
Bandai Namco Games will ship the game in Japan on April 14.
This week's issue of Enterbrain's Weekly Famitsu magazine reports that Dai-2-ji Super Robot Taisen Z Saisei-Hen, the second half of the Super Robot Wars Z II game project, will add the following anime titles to its lineup of over 40 robot series:
Mobile Suit Gundam 00
Taiyo no Shisha Tetsujin 28-go (New Gigantor)
Macross Dynamite 7
Macross Frontier: Sayonara no Tsubasa
Code Geass: Lelouch of the Rebellion R2
Gurren Lagann the Movie –The Lights in the Sky Are Stars- (Tengen Toppa Gurren Lagann: Ragan-hen)
Animenewsnetwork, Sinobi (Shinobi) no Enmachō, 0takomu