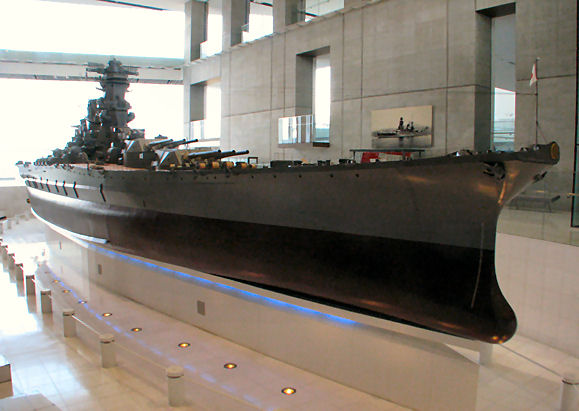 Yamato Museum:
1/10 scale Battleship Yamato
Photoreview No.18 Large Images & Info
Kure Naval Base was established in 1889, and the Kure Naval Dockyard began operating in 1903. This was the best naval port in the Far East, and is most famous as the site where the battleship Yamato was built. Additionally, Kure was the biggest arsenal town in Japan.
After World WarⅡ, technologies cultivated in the time before the war were combined with subsequent advances, which led to Kure becoming one of the foremost marine industry cities anywhere — a place where many of the world's largest tankers have been built.
The one-tenth scale model of the battleship Yamato (length:26.3m) is duplicated as accurately as possible, based on original drawings, photos, and underwater images done by submersible surveys. As the centerpiece of the Yamato Museum, this one-tenth scale model of the battleship Yamato conveys the importance of peace and the potential of industrial technology to future generations.
Museum Hours
Exhibition Rooms: 9:00-18:00
Library: 9:00-17:00
Hall,Citizen's Gallery: 9:00-21:00
Conference Room
*Closing Times may be extended
Closed: Tuesdays
Open every day from July 21 – August 31
Adults: 500 Yen
High School Students: 300 Yen
Elementary & Jr.High Students: 200 Yen