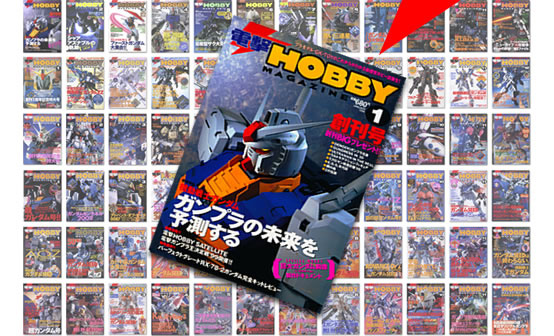 Dengeki Hobby Web is currently soliciting picks for its 200th-issue "Dengeki Hobby Sample Build Remake Project", due to run in the March 2013 issue which hits newsstands January 25th.
If there's a Dengeki Hobby build you want to see remade with modern technique and style, tell us what it is! Whether it's a classic cover or a unique article build, you can vote for it on the page below!
Whatever gets the most votes will be remade by Dengeki Hobby staff for issue 200. Votes must be in by noon on September 25th.
The page lists everything from the debut issue until now, so browse until you find a favorite kit, a design that's stuck with you, or something you'd love to see updated!
200th-issue Dengeki Hobby Sample Build Remake Project
[Voting open] Noon 7/25 – 9/25
[Results] In Dengeki Hobby March 2013 (on sale 1/25/2013)
[Voting page] http://hobby.dengeki.com/remake200/