English Evangelion Hakone Tourist iPhone App Released: FULL Info, Link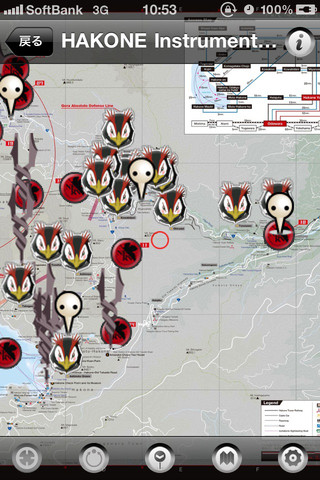 Description
■App Name
HAKONE Instrumentality MAP (official name)
■Description
This software is mapping software of Tokyo-Ⅲ.
Tokyo-Ⅲ is the imaginary city from the setting of Evangelion, a TV animation and movie series. Tokyo-Ⅲ is located in the area known as the Hakone Town Ashigarashimo District in Kanagawa prefecture. This software serves as a guide for the Tokyo-Ⅲ and also illustrates comparisons with real Hakone.
In addition, the software provides various tourism information, such as hot springs, and tourism information about Hakone.
■App Features
-Shows the user's location on the map by using the GSP positioning system.
– Based on the instantaneously updated GSP positioning system, can easily check your current position by following the "mark" on the map
– Can view comments, photos, and graphical content by touching on the landmark icons such as Evangelion, Sightseeing, Hotspring and Information.
– Can change the display of Evangelion Map to Google Maps.
-As a result of the rotating function, present location is displayed when changing the map display of Evangelion Map to Google Maps or vice versa.
-Application works for the high resolution display of iPhone 4 and iPad.
■NOTICE
1.The location indicator, based on the GSP positioning system, may not work accurately for iPad Wi-Fi/iPod Touch.
2.Neither modifications nor alterations are made to the original map used in the application.
3.Due to errors and/or malfunctioning of the map and/or GSP system, 100% accuracy of the positioning service ("mark") is not guaranteed.
4.JTB communications Inc. respects human rights and privacy. It is not the intention of JTB communications Inc. to violate human rights and privacy by disclosing individuals' location on the map.
By JTBCommunications
The application is slated to be available until March 31 of next year, and costs 450 yen (about US$5.70). There are no plans at this time for an Android version of the application.