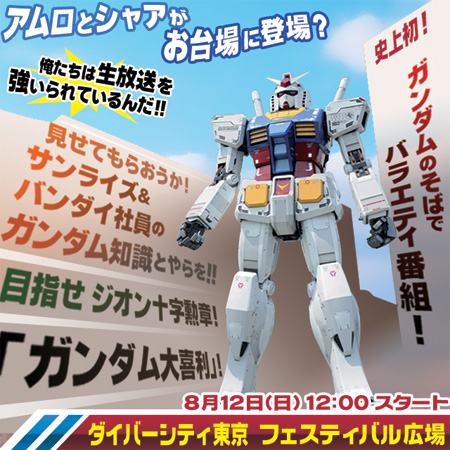 Bandai Namco Live TV will broadcast a "Gundam Summerfest" live special at noon on August 12th.
Mobile Suit Gundam UC author Harutoshi Fukui will appear as a special guest. Maybe he'll let some hints drop about episode 6?
Plus we reveal the second trailer for Mobile Suit Gundam SEED HD Remaster and announce a date for SEED PARTY #2!
We're still looking for quick one-liners for the finale too.
If we use your idea, you'll get a special gift, so don't be shy!
Just respond to your favorite prompt out of the three.
You can enter as many times as you'd like, so keep 'em coming!
If we use your idea, you ger a special gift!
[Question 1]
We asked 100 Newtypes.
"What's the worst thing about being a Newtype?"
What was the top answer?
[Question 2]
Amuro climbs into the cockpit of a new mobile suit.
"Man, this tin can's a piece of junk."
What does he need slapped out of him?
[Question 3]
Char reports back to Kycilia, and she really doesn't like it.
What set her off?
Send your answers here!
http://www.bandainamcogames.co.jp/bnltv/oogiri/
Gundam Summerfest, the first of Bandai Namco Live TV's three summer specials, will be broadcast live from the 1/1 Gundam statue in Odaiba's "Diver City Tokyo Plaza" beginning at noon on August 12th.
guests will include undam celebs Osamu Wakai, Numacchi, amd Kenji Nomura (voice of Gundam AGE's Iwark Bria)! From a pro-am Gundam quiz to a rapid-fire closer with unpredictable guests, we've got plenty to see!
Of course, we'll also have a live audience, so be sure to drop by if you're in the area!
(※ Attendance capacity limited.)
■ Bandai Namco Live TV Triple Summer Special
#1: Gundam Summerfest
[Streams] 8/12: Noon – 3:00 PM
[Guests] Harutoshi Fukui, Osamu Wakai, Numacchi, Kenji Nomura, Arisa Noto
[Location] 1/1 Gundam at the Diver City Tokyo Plaza Festival Plaza
[Streaming site]  http://live.b-ch.com/gundam
#2: Tiger & Bunny Hero Station
[Streams] 8/18: 7:00 – 10:00 PM
[Streaming site]http://live.b-ch.com/tigerbunny
#3: Summer iDOLM@STER Festival
[Streams] 8/19: 7:00 – 9:00 PM
[Streaming site] http://live.b-ch.com/imas
※ No repeat airings are planned.