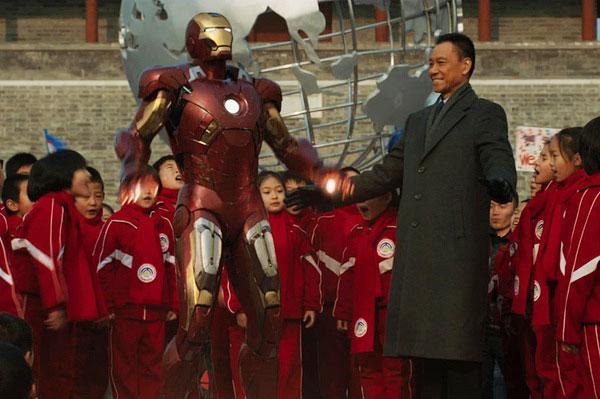 China's IRON MAN 3 Getting Special Cut !!!
Right now, it's becoming obvious that those Iron Man 3 scenes filmed in Beijing last December are not just additions to the final film and it had nothing to do with Mandarin, but in fact part of an entirely alternate cut of the movie.
It turns out, China will be getting a radically different version of the upcoming Iron Man threequel, specifically tailored to their audiences.
We don't know just how different, but if you don't happen to live in China, not to worry as the bonus scenes will likely appear on the Blu-ray and DVD release of Iron Man 3 in the future.
Both versions of the film will star renowned Chinese actor Wang Xueqi and that includes featuring one of the country's most popular actresses, Fan Bingbing who will also play Blink in X-Men: Days of Future Past.
Iron Man 3 will be released in U.S. on May 3rd, 2013, while the release date in China has not yet been announced.
Here's the full press release:
Marvel Studios and DMG announced that a Chinese version of IRON MAN 3 will be released in China on a date to be announced in the near future. DMG, a Chinese media and entertainment company, collaborated with Marvel Studios on the Chinese elements in the film, and is marketing and distributing the film in China.
While Marvel and DMG have decided not to apply for co-production status in China, the film includes significant Chinese elements. Renowned Chinese actor Wang Xueqi will appear in both the studio's Chinese version of the film and in its international and domestic US version. Both versions of the film include Iron Man 3 footage filmed in Beijing in December.
The Chinese version of the film will also feature a special appearance of China's top actress, Fan Bingbing, and will offer specially prepared bonus footage made exclusively for the Chinese audience. Marvel Studios' experience working on this film with Fan Bingbing and Wang Xueqi and in shooting in China has been very positive and has created a springboard for future collaboration with China's talented stars and its growing film and television industry.
The IRON MAN cast and filmmakers look forward to bringing IRON MAN back to China.
filmofilia, Marvel Studios