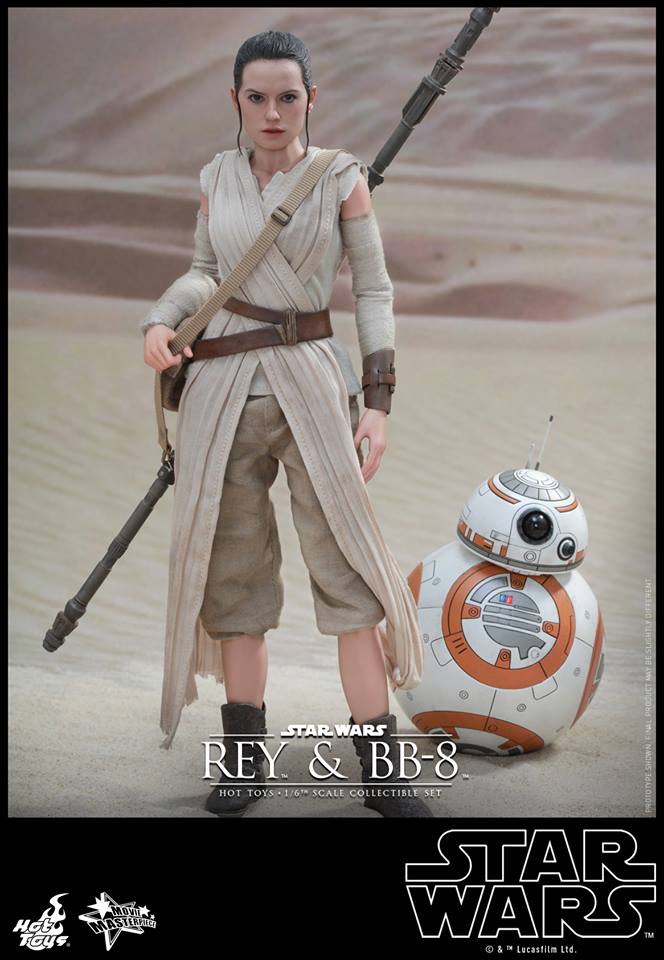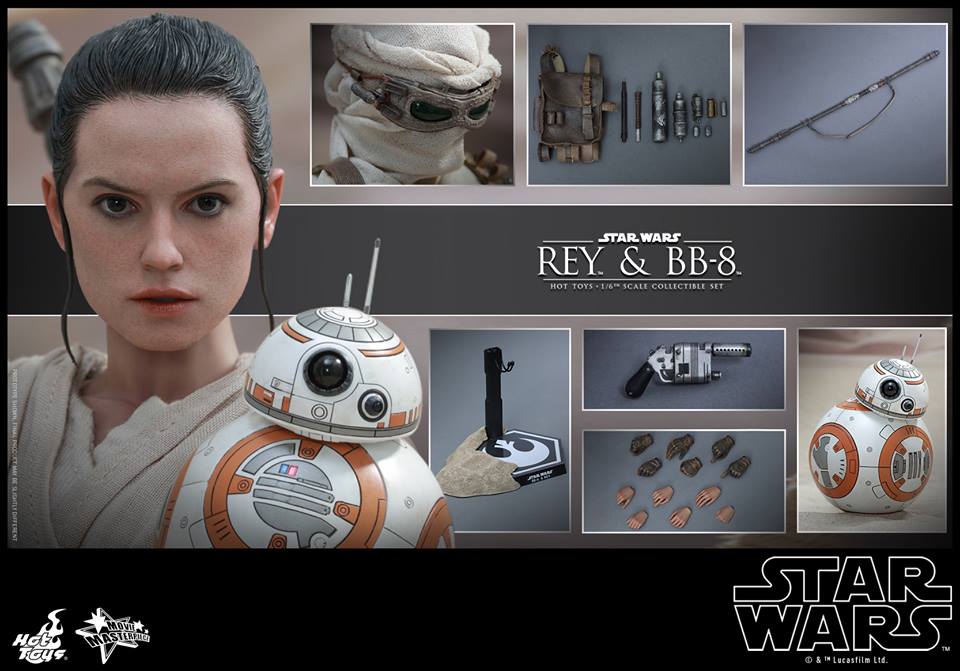 Hot Toys x Star Wars The Force Awakens: 1/6 REY and BB-8 Collectible Set.
No.25 Big Size Official Images, FULL Eng INFO
Today we are very excited to share great news with you all on the updates we have for this amazing collectible figure! The desert gear head wrap with goggles can now be freely put onto Rey's headsculpt to provide an additional look for our beloved scavenger or have the head wrap cover the whole face to reenact the opening scene of the movie!
Furthermore, Luke Skywalker's lightsaber will now be included for Rey as a bonus accessory!
Fans who have pre-ordered this collectible figure (or the Rey and BB-8 Collectible Set) will be able to enjoy all these upgrades, and for those who haven't done so yet, be sure not to miss out on adding Rey to your Star Wars collection!
"The Force. It's calling to you. Just let it in."
The release of one of most highly anticipated movies of all time, Star Wars Hong Kong: The Force Awakens, is almost here! Featuring a cast of new and familiar faces, the epic sequel will surely take Star Wars Hong Kong fans on a very exciting journey in a galaxy far, far away! Today, Hot Toys is very thrilled to officially present a special 1/6th scale collectible set of Rey and the lovable droid BB-8!
Our new heroine Rey is a resilient survivor, a scavenger toughened by a lifetime of dealing with the cutthroats of the harsh desert world of Jakku. We are sure Star Wars Hong Kong fans are anxious to see where the journey will lead for Rey and her newfound droid.
The highly-accurate Rey collectible figure is specially crafted based on the image of
Daisy Ridley in the film featuring a newly developed head sculpt with fine hair sculpture, two interchangeable looks, meticulously tailored outfit, highly detailed accessories, and a hexagonal figure stand with the Resistance's emblem. The highly accurate BB-8 collectible is specially crafted on the image of the unique designed droid in Star Wars Hong Kong: The Force Awakens. It features a newly developed spherical body embedded with self-balancing mechanisms, LED light up eyes, and a specially designed Jakku desert-themed figure base attachable to Rey's hexagonal figure stand.