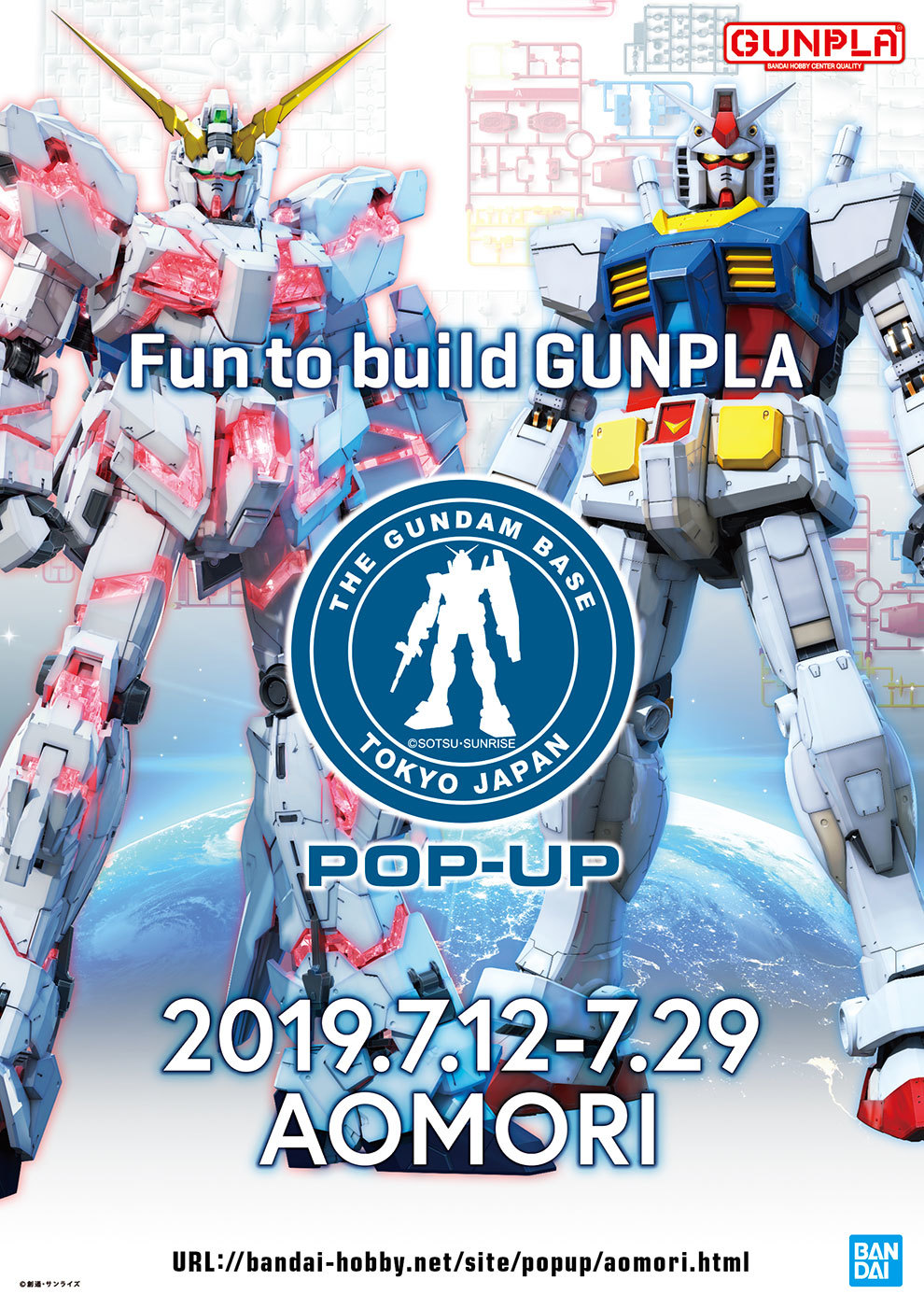 THE GUNDAM BASE TOKYO POP-UP in AOMORI: full info, gunpla lineup images
Holding period: Friday, July 12, 2019-Monday, July 29 2019
Venue: Aeon Mall Shimoda 2F "Aeon Hall" (Nakanohira 40-1, Oirase-cho, Kamikita-gun, Aomori Prefecture)
Venue time: 10:00 to 19:00
※Closed at 17:00 on the last day
Entrance fee: free
Contents of the exhibition
Photo spot: Gunpla "1/1 Gundam" head, 1/10 scale unicorn Gundam,
The first figure of Strike Gundam will appear in Aomori Prefecture!
GUNDAM BASE LIMITED ITEM: GUNDAM BASE-LIMITED ITEMS ON RELEASE
NEXT PHASE GUNPLA: In addition to the latest items scheduled to be developed, items to be commercialized are on display earlier than anywhere else
Premium Bandai Limited Edition: The "fun" of "Gunpla" will evolve!  With special item rare items.
We will display and explain development materials and real molds that show the production process of gunpla.
History of the "Gundam series": The main character machine gunpla of each work is exhibited in the airing order of the "Gundam series"
Gunpla evangelist: Exhibits various works of the masterpieces of Master Kawaguchi, and works related to the venue
Gunpla supporters: Exhibits gunpla of original coloring planned by artists, talents and celebrities
GBWC 2019: An overview of the Gunpla Builders World Cup in panel and video in 2019