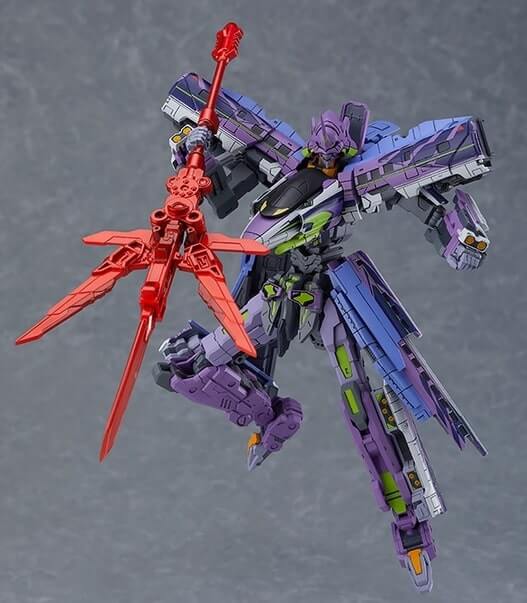 The miracle collaboration is now a plastic model kit! Shinkalion 500 TYPE EVA!
From "Shinkansen Henkei Robo Shinkalion" comes a plastic model of Shinkalion 500 TYPE EVA! The mecha has been brought to life while preserving its unique appearance from the show. It features fully articulated joints, and the Missile Shield (500 TYPE EVA) and Kaisatsu Trident (500 TYPE EVA) are both included.
The model kit is made of PS and ABS plastic with POM used for some joints, and features runners separated into five colors (white, light purple, purple, red and gray).
The kit also includes decals and pre-painted parts with a special design featured on various parts like the shoulders, so all it takes is a simple assembly to recreate the mecha from the series.
*This model is meant for display in Shinkalion mode. The model cannot be transformed into Shinkansen mode.
Price:
JPY5,500
Release date: June 2020
Manufacturer: Good Smile Company
Series:
Shinkansen Henkei Robo Shinkalion
Specifications:
PS&ABS assemblable plastic model kit. Not to scale. Approximately 140mm in height when built.
Order Period:
Preorders can be placed from 17th January 2020 (Fri) from 12:00pm JST until 20th February 2020 (Thu) at 12:00pm JST.
goodsmileshop.com