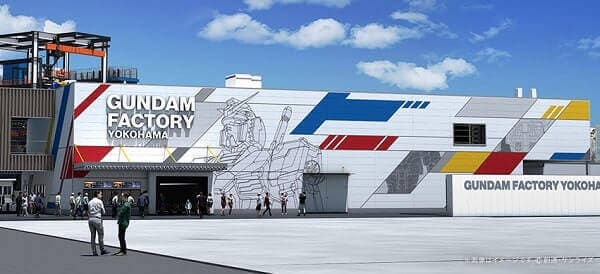 Gundam Global Challenge. The project is now nearing its completion: October 1
The announcement was made in conjunction with the unveiling of the plans for Gundam Factory Yokohama, a new entertainment complex being built on the waterfront of Yokohama harbor, on the Yamashita Pier at the eastern edge of the seaside Yamashita Park.
The prime attraction is the full-scale Gundam itself, which guests can get an up-close look at via the Gundam Dock Tower scaffolding that surrounds the RX-78.
Other features of the facility include an Academy, showing how the statue was created and upgraded to mobile status, as well as a Conference Room for group workshops.
There's also going to be a Gundam Base Yokohama Satellite specialty shop packed with Gunpla and limited-edition merchandising, and some Gundam Cafe.
Ticket reservations to the complex start in July, but special preview tours will be held in July and August, for those lucky enough to win a spot.
The Gundam Factory Yokohama project will include the GUNDAM-DOCK and GUNDAM-DOCK Tower, where the moving Gundam model is stored and can be viewed, and the GUNDAM-LAB where visitors can learn the technology behind the giant mode.
If you wanna take a look at many images and live streaming official video from my previous post, here is the link