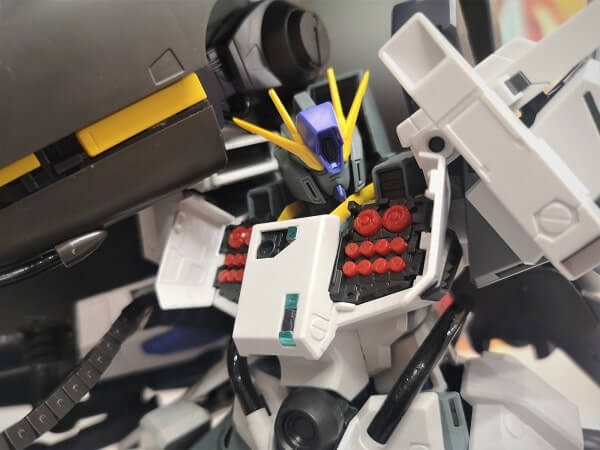 The next Ver.Ka MG model comes from the highly popular Gundam Sentinel photo novel.
Release date: 13 February 2020 – Price: 12,100 Yen
PRODUCT DETAILS:
Created only as a trial production unit to verify the equipment that would be used on the Full Armor ZZ Gundam, its imposing presence masks its low combat ability.
Under the supervision of Hajime Katoki, the FAZZ features new proportional armament and armor interpretations as well as various sliding gimmicks. The forearm has been designed with a unique movable roll to achieve a wide range of movement.
When the arm is raised horizontally, it is structured to move in conjunction so that the additional armor does not interfere.
When raising the legs, additional armor of the front armor is deployed upwards to avoid the parts rubbing. Missile pods loaded in various places are reproduced with Katoki's new unique interpretation found only on the Ver. Ka.
You can also open and close the hatch manually and enjoy the built-in missile display.
Includes Ver.Ka water decals that include different chest numbering.
Includes Double beam rifle X 1, Hyper Mega Cannon × 1
商品説明
『ガンダムセンチネル』より、FAZZがMG Ver.Kaで立体化!
カトキハジメ氏監修のもと、武装と追加装甲を新規解釈で構成。重厚感を維持しつつ、鈍重にならないプロポーションを追求。
前腕にロール可動を採用し、幅広い可動を実現。腕を水平に上げた際には追加装甲が干渉しないよう、連動して可動する構造となっている。
脚を上げる際にはフロントアーマーの追加装甲を上方向に展開することで可動域を確保。
各所に仕込まれたミサイルポッドは、Ver.Kaならではの解釈を盛り込み再現。手動でハッチを開閉し、内蔵されたミサイル発射状態でのディスプレイも楽しめる。
異なる胸部のナンバリングを含むVer.Kaならではのデカールが付属。作品中でのFAZZ小隊を再現可能。
付属品
ダブル・ビーム・ライフル×1
ハイパー・メガ・カノン×1
水転写式デカール×1
ホイルシール×1
価格:12,100円(税込)