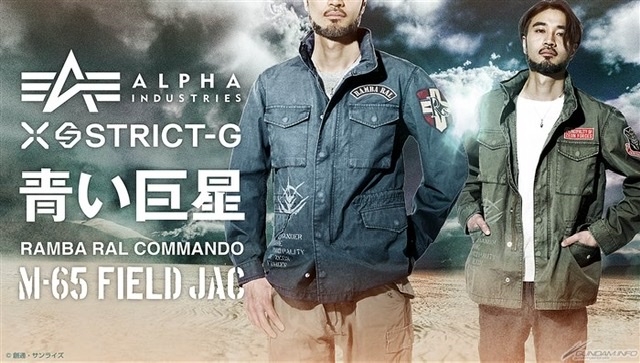 Ramba Ral Field jacket "M-65" is here!
At STRICT-G, an apparel shop that incorporates the Gundam worldview, the military fashion brand "ALPHA INDUSTRIES" and "Mobile Suit Gundam" collaborated from 13:00 on March 16 (Mon.) today.  65 "2 types of reservations start.
This collaboration item is a lineup of "Zeon Army Ramba Ral Commando Model" based on olive color and "Ramba RalModel" based on navy.
"Zeon Army Ramba Ral Corps Model" has left chest with "PRINCIPALITY OF ZEON FORCES", left arm has Zeon Army embroidered emblem patch, "Ramba Ral Model" has left chest "RAMBA RAL" and left arm has Ramba ・ Embroidery emblem patch of Ral personal mark is sewn.
In each case, a stencil-like logo is also designed on the right pocket and the inside of the back, and it appears in a design that creates a world view.
It is a standard item that can be used in a variety of applications, such as casual or mode dressing, suit over jackets, etc.
In addition, at each store of "STRICT-G", it will be sold from March 20 (Fri), so let's check it together.
STRICT-G x ALPHA INDUSTRIES M-65 Field Jacket "Mobile Suit Gundam" Zeon Ramba Ral Corps Model
Price: 36,300 yen (tax included) (postage and handling extra)
Product size: S, M, L, XL
Commodity material: 100% cotton
STRICT-G x ALPHA INDUSTRIES M-65 Field Jacket "Mobile Suit Gundam" Ramba Ral Model
Price: 36,300 yen (tax included) (postage and handling extra)
Product size: S, M, L, XL
Commodity material: 100% cotton
Tokyo Odaiba store
[Location] Diver City Tokyo Plaza 7F, 1-1-10 Aomi, Koto-ku, Tokyo
[Business hours] From 10:00 to 21:00
[Telephone] 03-5579-6157
Tokyo Solamachi Store
[Location] 1-1-2 Oshiage, Sumida-ku, Tokyo Tokyo Skytree Town Solamachi 4F
[Business hours] From 10:00 to 21:00
[Telephone] 03-5809-7328
NEOPASA Shizuoka (Descent) shop
[Location] 1258, Iima, Aoi-ku, Shizuoka-shi, Shizuoka Prefecture
[Business hours] 8: 00-21: 00
[Telephone] 054-295-9121