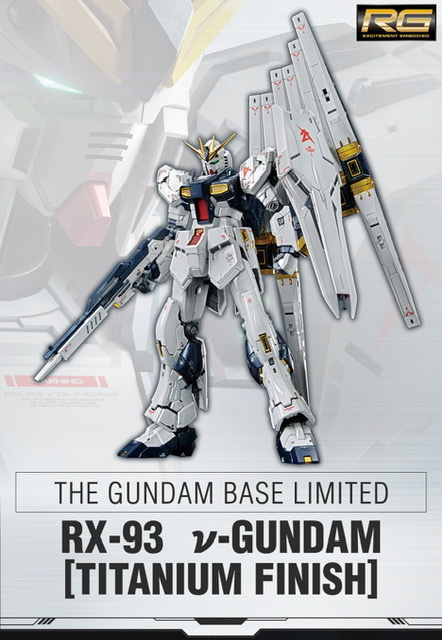 New Images RG The Gundam Base Limited Nu Gundam Titanium Finish, Full eng info 
Price: 9,350 yen (10% tax included)
Tokyo Stock: Out of stock
Fukuoka Stock: Out of stock
Target age: 15 years or older
Brand Name: RG [Real Grade]
Work: Mobile Suit Gundam Char's Counterattack
Product introduction
This is a limited-edition Gunpla for the Gundam Base, an official Gunpla general facility for Gundam fans worldwide.
The RG 1/144 ν Gundam, which boasts an overwhelming amount of information in outstanding mobility, is now available in a super-luxurious limited edition!
■ Titanium finish is applied to the white exterior to make it a very luxurious finish!
■ Semi-matte gold plating is applied to the blade antenna and chest parts for a magnificent finish!
■ Use metallic molding colors for internal frames and weapon parts!
■ Beautiful package design unique to limited items!  It is a luxurious specification that expresses the sense of luxury and metal that the product has!