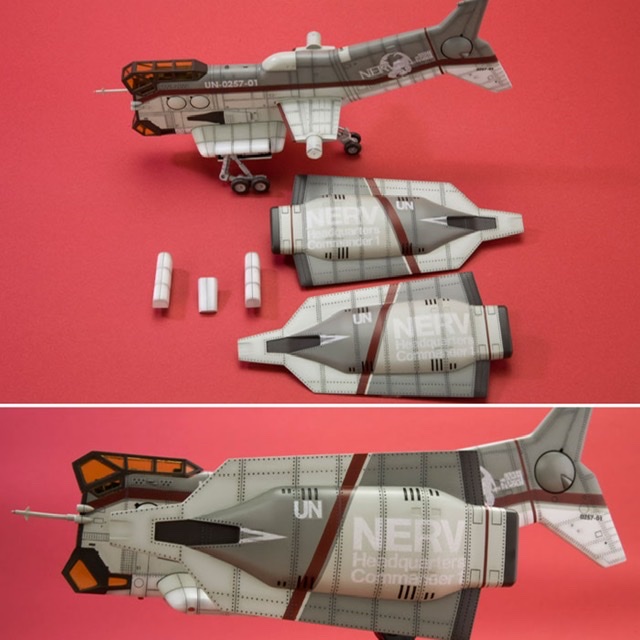 Kotobukiya 1/100 NERV Vertical take-off and Landing Aircraft: many images, full info
Evangelion: New Movie Edition
series
plastic models
Release month:
August 2020
scale:
1/100
Product size:
Total length / about 190 mm
price
4,500 yen (excluding tax)
Product Specifications:
Number of parts
51 ~ 200
Material
PS
Prototype production
Ashizawa Masaru
Product Description
From "Evangelion New Theatrical Version", the long-awaited commercialization of "Vertical take-off and landing plane for exclusive commander of NERV for transporting dignitaries"!  !!
At the request of fans, the "vertical takeoff and landing plane for Nerve Commander for transportation" that appears in "Evangelion New Theatrical Version" is finally three-dimensionalized with a 1/100 scale plastic kit!
The characteristic form has been precisely reproduced based on the setting materials.  In addition to the detailed rivet mold on the exterior of the main body, markings such as the "NERV" logo mark applied to various places are firmly reproduced with the attached decal.  In addition, a "dedicated base" that enables display in "flying state" is included.  Since the main wing can be moved according to the settings, you can select and display "flying state / landing state".
The unique silhouette of the VTOL aircraft (vertical take-off and landing aircraft) is a gem that not only evokes the core Evangelion fans, but also aircraft fans.