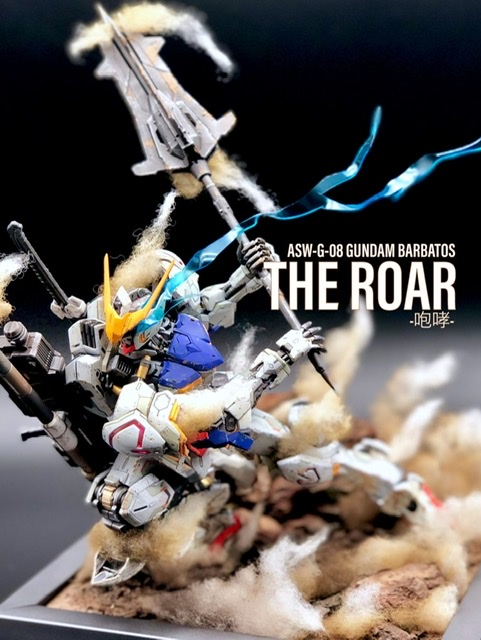 MG 1/100 Gundam Barbatos Diorama review
….translated…
MG Barbatos, was finally completed.
As the image line, I tried to imagine the composition that the iron-blooded Orphans main theme flows in my mind.  Especially the main chorus part.
As a challenge requirement, we tackled with the first weathering, diorama, action and effect.  (This is why it takes extra time ←)
I think that I was able to manage it well somehow.
Weathering is difficult because it requires a lot of work.
Creating poses with the keywords of "dashing" and "dynamicity".  I am trying to show the direction that Mace is swinging up as if moving forward while dust is being removed by the flow of dust.
Basically, you will see it from the front, but if it is a three-dimensional work, you should show it from the back …
The original kit is so good that it looks cool.
I showed it as a diorama work, but since it is not fixed, it is also a single visual.
Since it is a prerequisite for setting a diorama, it is quite dirty with mud, but …
It's not so noticeable due to weathering, but I was doing my best at striking and chip details….
Detail improvement work process.  The points I wanted to show were streak and tip details in various places, and punch metal seen from the damage to the left front armor.
This was my first time using a diorama, but I tried to imitate other people's methods, and I thought it was rather easy.
Work by Aona_Maxwell
(Twitter account)