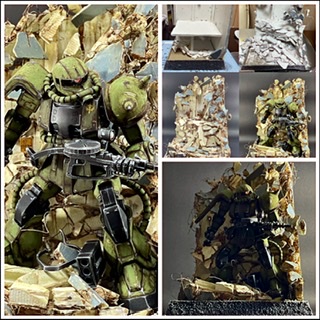 1/100 Gunpla Diorama "surprise attack" images, description and credits
A Zaku II hiding in the ruins and aiming for a surprise attack. The setting is to throw a cracker with your right hand and surprise with a Zaku machine gun. The kit used is MG Zaku II 1.0ver. Since it is an old kit, I had a hard time posing.
Zaku from the front. Missile pods at the feet are purged after use. I also throw away the damaged heat hawk near the left leg.
Zaku from the side. I intend to complete the 360° without gaps.
From above. Since the setting is the ruins of a field hospital, small items such as beds are placed on the second floor. …skeletal corpses.
It's night ver. It is a mono-eye that shines with the light of the explosion.
Ruins are made of plaster and enameled wire. I made a gypsum board with enameled wire, assembled it, painted it, broke it, and weathered it. The basic paint is lacquer with an airbrush, and the weathering is painted with Vallejo and oil paint.
The outer wall was weathered with panel shading painting. I think it created a good atmosphere.
The second floor of the ruins. I placed a fully scratched bed, skeleton, chest of drawers, and shelves. The futon is a dirty kimwipe.
It is a fully scratched bed and a skeleton. The bed is made of brass wire and plastic board, and the skeleton is made of plastic board.
Work by オヤシラズン
@teru818514 on Twitter