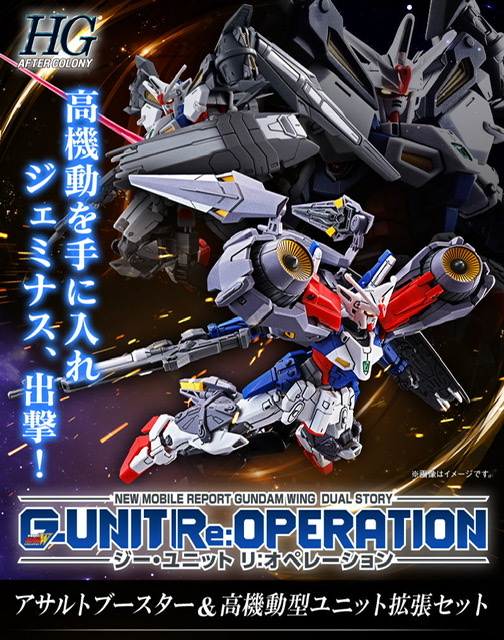 Assault Booster & High Mobility Unit Expansion Set for Gundam Geminass 01
Sales price 1,760 yen (tax included)
Acquisition points 17P
Reservation acceptance start 12:00 on May 29, 2020
Delivery date Scheduled to be shipped in September 2020
From "New Mobile Report Gundam W DUAL STORY G-UNIT", "HG 1/144 Gundam Geminass 01",
An assault booster for space units and an expansion set that can reproduce the High mobility unit for the atmosphere have been commercialized.  Furthermore, under the supervision of Mr. Akutsu, the original mechanical designer, the new mechanical form "union form" has been three-dimensionalized.
< set content >
● Complete set of assault boosters
● Completely mobile unit
<2 types of unit mounting styles can be reproduced!  >
It is possible to reproduce two types of mounting forms using the replacement mechanism (linear lock bolt) of Gundam Geminass 01.  Can be reproduced by recombining each unit.
◆◆ Assault booster
-Remodeled shoulder, back, and leg assault boosters with high detail and new molding.  Color coding is also reproduced with molding color.
Shoulder thruster
-Reproduce the movable high-power thruster "stabilizer" attached to the shoulder armor.
The injection port hatch reproduces the opening and closing gimmick, and the internal details such as the nozzle part are also reproduced in detail.
Leg thruster
A leg unit that is worn so as to cover the calf area.  Reproduce the yellow part in the molding color.
Back thruster
-Reproduce the Assault booster backpack in high detail.
The elongated thruster part has a movable base that supports a variety of poses.
◆◆ Highly mobile unit
High-mobility type unit compatible with the atmosphere is first made into a gunpla.  Includes highly mobile units for shoulders, back and legs.
Reproduce the Gunpla original gimmick.
Booster pod
-Reproduce the shoulder booster pod with a built-in high-power turbine.
Details of the rotor fan inside the turbine are reproduced in detail, and the swing gimmick of the turbine is built in.
Leg thruster
-Leg unit similar to the Assault booster.
Reproduced with a gray molding color that matches the highly mobile unit.
Back thruster
-Reproduce the backpack of a highly mobile unit.
-The tail thruster has a gimmick that can be moved back and forth, and the beam launcher carried as the original setting can be deployed.
Also, the launcher can be removed and held in your hand.
<New mechanism form "Integrated form">
A new form is introduced by combining and assembling some parts of the assault booster and high mobility type unit.  More power is given to Gundam Geminass 01!
◆◆ Back thruster connection
-The assault booster of the space unit and the back of the highly mobile unit can be combined.
◆◆ Booster pod recombination
-It can be attached to the bottom of the legs of Gundam Geminass 01 by changing the booster pod of the highly mobile unit.