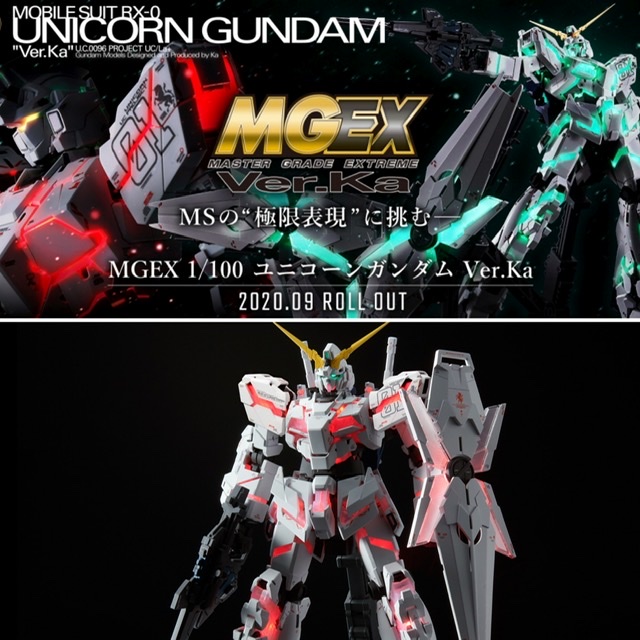 In September 2020, "MGEX 1/100 Unicorn Gundam Ver.Ka" will be released.
Description of item
Gunpla 40th anniversary!  High-end brand is born in MG!
"MGEX" is a new brand that challenges the "extreme expression" of MS, based on the technology accumulated by BANDAI SPIRITS and the "theme" set for each aircraft by combining different materials.
■ The first theme is "extreme "light emitting mechanism"".  "Light emission" expression by the calculated "structure" and new LED unit.
■ With the button operation, the main body psycho-frame emits light in red and green from the lighting of the pupil and the main camera of the head.
■The newly adopted "flexible LED sheet" realizes easy assembly and space saving.  With this technology as the starting point, Unicorn Gundam's first ever transformation, light emission, color change, and movable symmetry are realized.
■The whole body proportions are produced by new molding under the full supervision of Mr. Hajime Katoki.
■Using the lead wire, it is possible to make clear parts of the shield placed away from the main body emit light.
■Plastic model Water transfer type decal including original new design is attached.
(3) The dedicated MS cage has the function of storing the battery box of the lighting unit, adjusting the position of the columns, and holding the weapon.
■3 AA alkaline batteries (sold separately) are required to reproduce light emission.
accessories
■Beam Magnum x 1
■Hyper Bazooka x1
■Shield x 3
■Beam Gatling gun ×6
■Beam saber x 4
■ Illumination unit x 1 set
■Exclusive MS cage x1
■Water transfer type decal x 1
■Metallic seal x 1
Price 25,300 yen (tax 10% included)