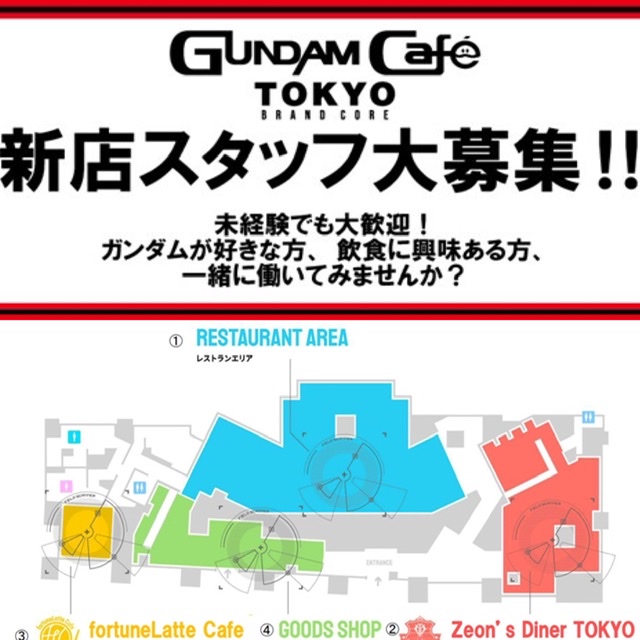 "GUNDAM Café TOKYO BRAND CORE" We are looking for staff!
"GUNDAM Café TOKYO BRAND CORE" (Gundam Café TOKYO BRAND CORE), which will open on Friday, July 31, is looking for a staff member for halls, kitchen goods.
"GUNDAM Café TOKYO BRAND CORE" is a completely new experience-based entertainment restaurant facility where the world of Gundam's works and the real world intersect. The interior is a futuristic space that resembles the world of Gundam, and consists of four areas: a restaurant area, Zeon's Diner TOKYO, a goods shop, and fortune Latte Cafe.
Not only people who like Gundam and people who are interested in eating and drinking, but also inexperienced people are accepting applications. Let's work at GUNDAM Café's new flagship store with a view to global expansion.
"GUNDAM Café TOKYO BRAND CORE" Facility Overview
Facility name: GUNDAM Café TOKYO BRAND CORE
Opening date: Friday, July 31, 2020
Business Hours: 10:00-22:30 *13:00-22:30 on Friday, July 31st
Location: 1-1 Kanda Hanaoka-cho, Chiyoda-ku, Tokyo (1 minute walk from JR Akihabara Station Denkigai Exit)
Phone number: 03-3251-0078 *Opening after Friday, July 31st
Total area: 732.4㎡
Number of seats:
・Restaurant area up to 120 seats
・Zeon's Diner TOKYO up to 35 seats
*We will reduce the number of seats from the opening date to the present for the time being.
Facility operation: BANDAI SPIRITS Food Entertainment Development Department
Official site: http://g-cafe.jp/ * Scheduled to renew the site on Tuesday, July 14
*It may not be possible to enter the store immediately after opening due to congestion. Details regarding entry such as entry system and seat reservation will be announced on the official website after July 14 (Tuesday).
To reduce the risk of new coronavirus infection for customers and employees who visit the store, we will operate according to the following measures.
・We will reduce the number of seats and open from the opening date to the moment. In addition, we will guide you by setting a limit on the number of people who can enter each area.
・Customers are not allowed to visit us if they have a cold, a fever of 37.5°C or higher, and are feeling tired (malaise) or dyspnea (dyspnea). Also, please wear a mask when visiting the store.
・Employees will be required to take a health check before starting work, and we will take various infection prevention measures such as gargling, washing hands, encouraging disinfection, and thorough cough etiquette (wearing face shield and mask). In addition, we will thoroughly disinfect and clean the store.
・Admission may be restricted depending on the congestion situation.
・Due to measures to prevent the spread of the new coronavirus infection, there is a possibility that the business hours may change suddenly or may be temporarily closed after the opening.
*For details, please check the official GUNDAM Café website after Tuesday, July 14th.
"GUNDAM Café TOKYO BRAND CORE" will carry out safety measures with the safety and security of customers and employees as the top priority, and strive for sales. We would like to ask for your understanding and cooperation.