"GUNDAM Café TOKYO BRAND CORE" (Gundam Cafe TOKYO) opened today. Opening ceremony report
The opening ceremony was hosted by a talented actor, Chiaki Kiya, and a guest voice actor, Toru Furuya, who plays the role of Amuro Ray, the main character of "Mobile Suit Gundam."
The charm of Gundam Cafe TOKYO was thoroughly introduced, so let's introduce the pattern.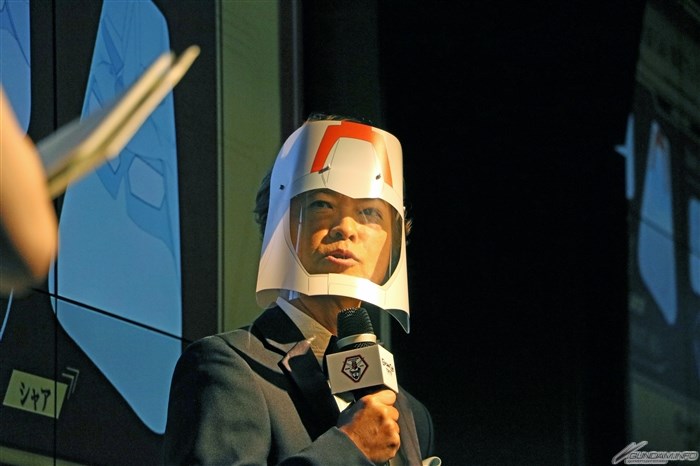 At the ceremony, Toru Furuya appeared with a face shield designed by Amuro, and the impression of the face shield was "I want to say that line… "Amuro, Gundam, Ikimasu!"
This face shield is prepared by Gundam Cafe so that you can enjoy your meal with a little peace of mind, and Takeshi Kiya wears a face shield designed by Char. Mr. Furuya said with a smile on his face, "I want both."
Amuro Design is distributed in the "Restaurant Area" and Char Design is distributed in "Zeon's Diner TOKYO". It will be returned when you leave the store, but if you wish to take it home, you can purchase it for 300 yen (tax included).
First, let's take a look at the "restaurant area" that resembles a dining room inside a space battleship. A large multi-monitor with an overall length of 18 m, which reminds me of battleship windows, is installed on the wall inside the store, and this time some of the images that can be seen from the large multi-monitor were released. In this video, in addition to White Base, Gundam, Unicorn Gundam, Side 7 and Jaburo are also shown. However, in the scene of successive attacks from the Zeon army, Mr. Furuya thought that "Gundam Koiyo!"
A special program "G DIMENSIONS EX DINNER SHOW" will also be held in the "restaurant area". At the "Akatsuki no Ryokai Ryugaku" presented by Char and Garma, which is a part of this, you can see the production of Garma standing in the kitchen and the rare scenes that are not normally seen. A menu devised by Char and Garma for soldiers will be provided, but Mr. Furuya said, "I'm irresistible to Gundam fans. But Char seems to be terrible. (Garma's) meat is good." It was also seen that they were hostile to Char.
Also, it was revealed that a dinner show for "Mobile Suit Gundam 00" version will be held, and future developments cannot be overlooked.
Next, we will introduce "Zeon's Diner TOKYO," a hands-on diner that you can enter the world of the Principality of Zeon and enjoy.
This place, where only officers of the Principality of Zeon can enter, has an "interactive projection sheet" where you can enjoy battle simulation with meals, and an "AR mission sheet" that has an AR function. At the bar counter, there is also a "memorial corner" where the famous scenes from the play are reproduced, and Mr. Furuya commented with a smile, "I'd love to come to Shuichi Ikeda."
Next, we would like to introduce a "goods shop," which sells about 360 original goods including Gundam Cafe limited items.
Although Mr. Furuya was surprised at the score, he seems to be interested in the "Japan Food Collection", which is a collaboration with local foods all over the country. I want you to do it!" he smiled.
Next, we will introduce "Fortune Latte Cafe," which offers take-out drinks such as a new type of print drink.
For Fortune Latte, select a base drink and print theme, answer mini-games and questions using a tablet terminal, and randomly print illustrations of characters and MS. Also, a "drink with a clear bottle" designed by Gundam Cafe TOKYO will be on sale.
Mr. Furuya, who was fully explained about the charm of Gundam Cafe TOKYO, said, "I would like to go to Shuichi Ikeda in private."
The "restaurant area", "Zeon's Diner TOKYO" and "goods shop" in Gundam Cafe TOKYO will be fully booked for the time being. If you want to visit the store, don't forget to make a reservation.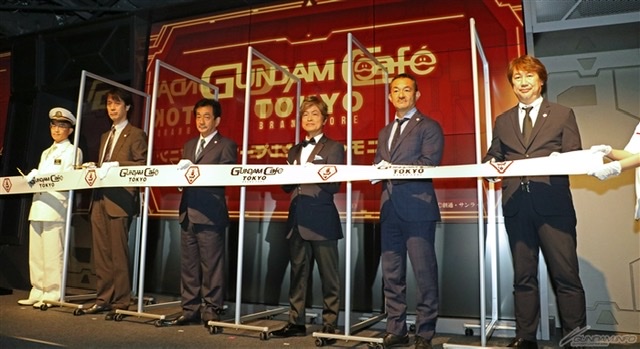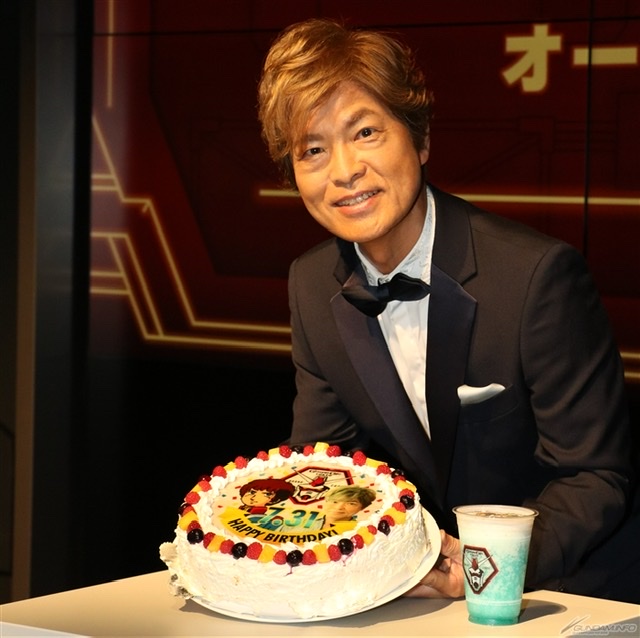 In addition, today is also an opening day, but since it is also Furuya's birthday, a surprise birthday special project is also held. A cake and a fortune latte printed by Amuro and Mr. Furuya were presented, and Mr. Furuya said, "I finally turned 17 years old. It's been half a century since then." It was announced that the Fortune Latte will be on sale for a limited time today, and was pleased to buy it.
Finally, Mr. Furuya said, "I have a lot of things to enjoy, the food looks delicious, and I'm excited because there are lots of alcohol. I think it's fun not only for Gundam fans. "~~", the ceremony closed.