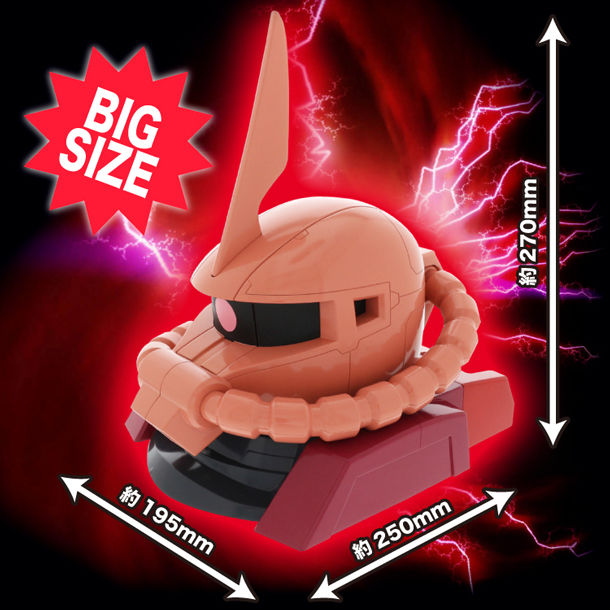 Char Aznable's Zaku-Head Tape Cutter images info
機動戦士ガンダム シャア専用ザクヘッド テープカッター
Sales price 8,580 yen (tax included)
Acquisition points 85P
This product is based on the "MS-06S Char Aznable Zaku II" that appears in "Mobile Suit Gundam".
A tape cutter with the head part as a motif.
The size of the main body is about 195 mm wide × about 270 mm high × about 250 mm deep, and it has a powerful specification that gives an overwhelming presence on the desk.
Not only as a practical tape cutter, but also as a stunning object.
In addition, the tape can be easily set by opening the head of the main body and the mono eye part that will be the cutter up and down,
The tape size corresponds to the general large-volume type on the market.
*Large roll: Core diameter of about 76 mm or more, outer diameter of 100 mm or less, width of 15 mm or less
set content
Tape cutter…1
*Cellophane tape is not included.
Product material
ABS
size
About W195 x H270 x D250 mm
[Contact for product inquiries]
Sunstar Bungu Co., Ltd. Customer Counseling Office
TEL: 03-3872-7141
Reception hours: 9:30 to 12:00 / 13:00 to 17:00 *Excluding weekends and holidays
*If the number of items prepared is reached, sales may be terminated early even within the scheduled period.
※We may change the delivery time and accept orders.
*The product photos and specifications on this page are under development.  Product specifications are subject to change without notice.
*The colors in the photo may differ slightly from this item.