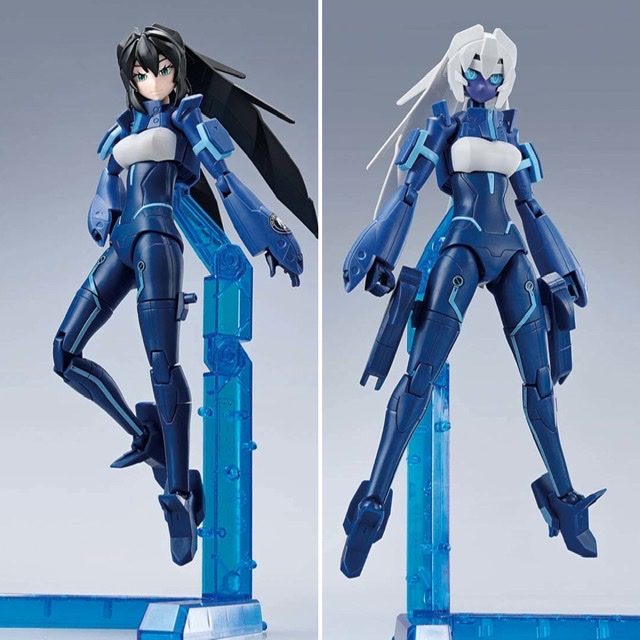 HG Gundam Base Limited Mobile Doll May Gundam Base Color
HG Gundam Base Limited Mobile Doll May Gundam Base Color, Gundam Base will be released in September 2020
It is a limited edition Gunpla of the official Gunpla general facility "Gundam base" aimed at Gunpla fans all over the world.
From "Gundam Build Divers Re:RISE" comes a fresh blue Gundam base color of "Mobile Doll May"
Gundam base original special marking sticker included!
It is possible to rearrange the MS status that May is on board in GBN and the real May appearance!
Three types of face parts are included.  Eyes come with stickers and water transfer decals!
-A clear blue pedestal that poses is included!
Price: 2,750 yen (10% including tax)
The HER-SELF Mobile Doll May (モビルドールメイ, HER-SELF Mobile Doll May) is a Gunpla that appears in the Gundam Build Divers Re:RISE series.
A Gunpla built as a Mobile Doll for the EL-Diver May, it is installed with a tool known as Build Decal that contains May's data. Tsukasa Shiba was responsible for the main design of Mobile Doll May, with inputs from Koichi Nanase. The Mobile Doll enables May to interact with the real world and can also be used in GBN.
When scanned as an MS in GBN, May is converted into a mechanical version of herself, with her back hair becoming stabilizers to improve stability during movements. When battling in MS Mode, its performance places an emphasis on martial arts combat based on dual-wielding beam handguns. It also has beam sabers on the forearms and carries beam shields that can be remotely controlled.
Armaments
* Beam Handgun
A medium to long-range portable firearm, a pair are stored on the side of the thighs when not in use. May dual wields the beam handgun while performing brilliant maneuvers, resulting in a combat style where she floats like a butterfly and stings like a bee.
* Beam Saber
A beam blade is generated from the beam saber generator built into the tip of each forearms. Designed by Tsukasa Shiba, May enjoys this aggressive layout.
* Beam Shield
A device that emits a plane of beam energy for defense. A pair are mounted on Mobile Doll May's upper arms and can be operated remotely after being tossed. They are not part of the Gunpla's initial plan, and are installed following advice from Koichi Nanase, who insisted that May enhance her defensive capabilities as well as offensive capabilities. However, May's battle style resulted in them being used for attacking instead.