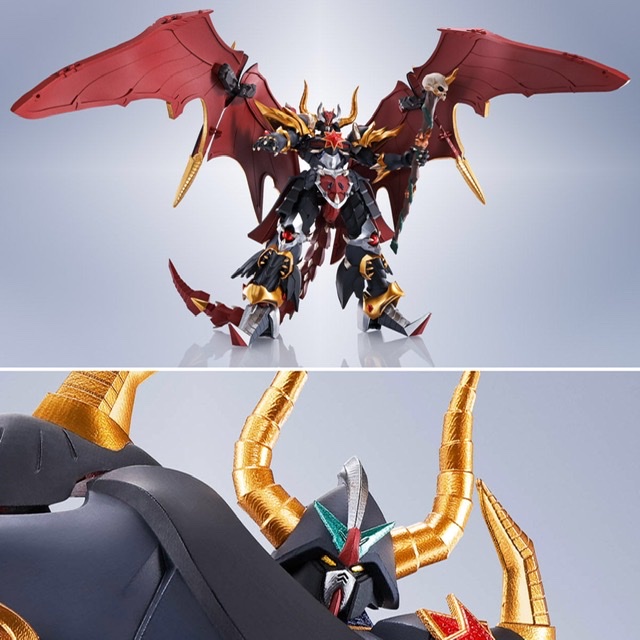 METAL ROBOT魂 Satan Gundam Monster Black Dragon Real Type Ver. Images, info
Demon Lord Satan Gundam (魔王サタンガンダム, Maō Satan Gandamu?) is a villain of SD Gundam Gaiden.
Satan Gundam, the fearful devil that has appeared in the Saddrac World, is released in Metal Robot Spirits.
His ominous design, enhanced by the texture of the glossless paint, is made to counter that of Knight Gundam, the hero of justice.
The frame is made of diecast, giving the product a solid feel
Selling price 16,500 yen (tax included)
Earn points 165P
Reservation acceptance starts September 18, 2020 16:00
Delivery date Scheduled to be shipped in February 2021
Appearance work SD Gundam Gaiden
Main product contents
Main body
Replacement wrist left and right 2 types each
Monster Black Dragon A set of replacement parts for transformation
Devil's Staff
A set of dedicated pedestals
Main product materials ABS / PVC / die-cast
Product size Satan Gundam Height: Approximately 140 mm
Total height at the time of Monster Black Dragon: Approximately 150 mm
The devil that plans to take over Saddrac World. He was killed by Knight Gundam, who had attained the power of the stone tablet and the three sacred instruments, using the Sword of Flame. His body fell into a volcano, but his soul took over Warrior Guncannon.
After taking Guncannon to the Mua world, the home base of the Zeon Clan, his soul fused with Dragon Baby and the Sword of Flame to be resurrected as Neo Black Dragon.
During his decisive battle with Vassal Knight Gundam, it is revealed that Satan Gundam had been used as a pawn of Dark Emperor Sieg Zeon to prevent the revival of Superior Dragon by killing Knight Gundam. Just then, an arc of light connects Satan Gundam to Knight Gundam, and the two of them realize that they were originally the same person. Accepting this, they fuse into Superior Dragon.
Originally, he was the evil half of Musha Gundam Mark Three. When Musha Mark Three was summoned to the Saddrac World as the new core unit of Superior Dragon, he was split into a good and evil half by Sieg Zeon himself. His evil half then fused with a dragon upon landing in the Saddrac World, creating Satan Gundam. In other words, Superior Dragon is Musha Mark Three fused with a dragon.