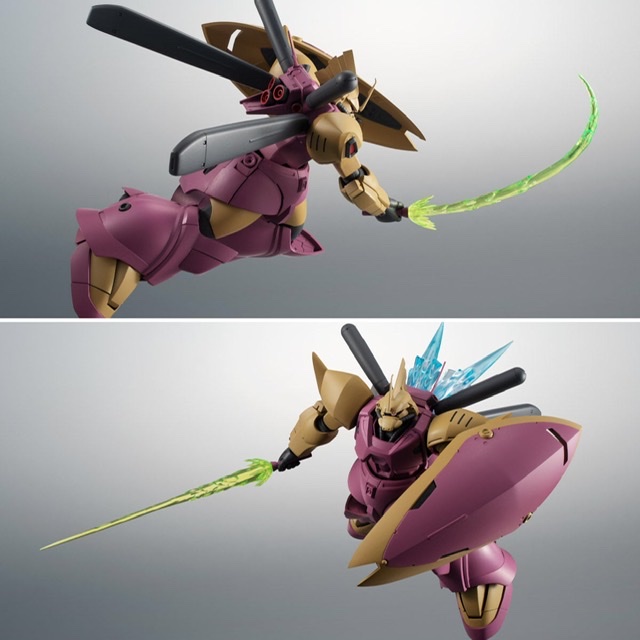 Images info: ROBOT魂 MS-14Fs Gelgoog M commander type Cima Garahau ver. A.N.I.M.E.
The Gelgoog Marine Commander Type is a commander variant of the MS-14F Gelgoog Marine. It first appeared in Mobile Suit Gundam 0083: Stardust Memory and reappears in the video game Mobile Suit Gundam: Encounters in Space.
Only a handful of Gelgoog Marine Commander Type units were produced, with at least one being assigned to the Cima Garahau's Fleet. During Operation Stardust in U.C. 0083, Cima used her Gelgoog Marine Commander Type before switching to the AGX-04 Gerbera Tetra.
Selling price 8,250 yen (tax included)
Earn points 82P
Reservation acceptance starts September 18, 2020 16:00
Delivery date Scheduled to be shipped in February 2021
Appearance work Mobile Suit Gundam 0083 STARDUST MEMORY
Main product contents
Main body
Replacement wrist left and right 5 types each
MNG-110 beam rifle
Saber grip x 2
shield
Wrist storage deck
Various effects
Main product materials ABS / PVC
Product size Overall height: Approximately 130 mm
CLUB TAMASHII MEMBERS Miles earned: 82 miles
* Premium Bandai cooperation is required after membership registration.
* Miles will be reflected when delivery is completed.
* Premium Bandai points will also be awarded as usual.
* For details, please check the dedicated site for "CLUB TAMASHII MEMBERS".
Before you buy: Please be sure to read.
* The actual product may differ slightly.
* Appearance such as coloring may vary slightly depending on the product.
* Product specifications and shipping dates are subject to change without notice.
* We may stop accepting orders when the planned number is reached.
Also, if there are many requests, we may accept it again.
* This product may be sold overseas.