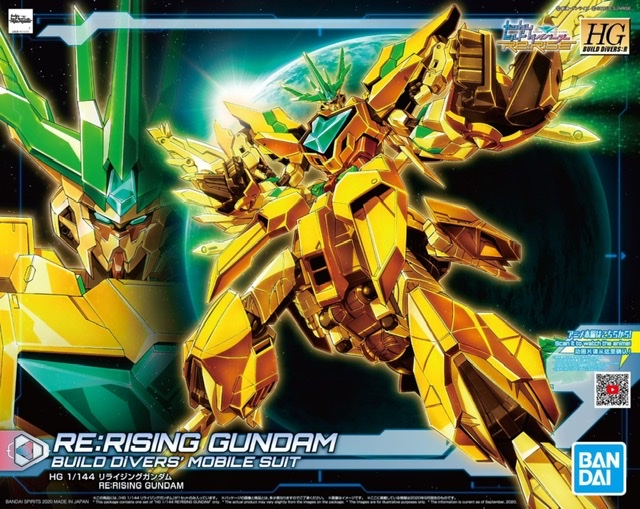 New images HGBD:R Re:Rising Gundam

BANDAI Releases on September 24, 2020 and the Price is 7,500 Yen
The PFF-X7II/BUILD DiVERS Re:Rising Gundam (リライジングガンダム, Re:Rising Gundam) is a Gunpla appearing in and is the titular machine of Gundam Build Divers Re:RISE. It is formed through the combination of the BUILD DiVERS' Gunpla and is piloted by Hiroto Kuga.
Technology & Combat Characteristics
The PLANETS System was invented by Hiroto and used the PFF-X7 Core Gundam as its foundation. The Re:Rising Gundam can be said to be the ultimate form created through the system, it is a combination of the PFF-X7II Core Gundam II with the JMA0530-MAYBD Wodom Pod + and parts from the Ex Valkylander and GAT-X303K Gundam Aegis Knight. This huge unit was created with the goal of releasing maximum firepower and obtained the powerful finisher "Grand Cross Cannon" that unleashes the Gunpla's energy. When using this finisher, the Re:Rising Gundam's whole body changes to a dazzling golden color.
Armaments
* Hyper Beam Saber
The massive beam blades generated from both of the forearms have overwhelming destructive power that can slice through countless enemy units and chop huge battleships in half.
Special Attacks
* Grand Cross Cannon
This super strategic finisher is performed by concentrating the energy of the Re:Rising Gundam, which consist of the Core Gundam II, Gundam Aegis Knight, Ex Valkylander, and Wodom Pod +, to a single point and releasing it as a powerful beam. This became the BUILD DiVERS' largest secret weapon in their battle against Alus on Eldora. Due to the torrent of energy around each part of the Gunpla when using this move, its body changes to a golden color, which is also known as "Grand Cross Color".
Special Equipment & Features
* PLANETS System
History
The idea for the Re:Rising Gundam being a combination of the BUILD DiVERS' Gunpla was thought up by Kazami. It was implied that the Re:Rising Gundam debuted at the Lotus Challenge ver. Eldora, where it used the newly gained Grand Cross Cannon to destroy the Lotus Fortress's core unit.