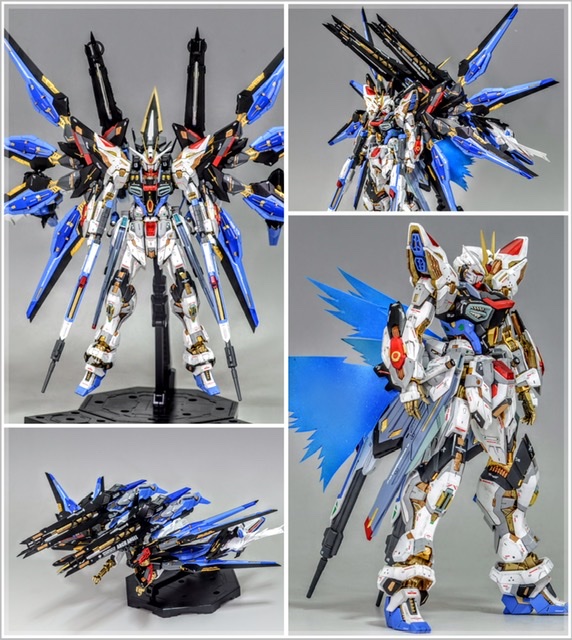 morish's MGEX 1/100 Rising Strike Freedom Gundam (mixing build) full images, info, credits
MGEX 1/100 Strike Freedom Gundam Modification
"RISING STRIKE FREEDOM"
It was completed!
It is a public memorial work of Gundam SEEDFREEDOM.
I made it while imagining that New Freedom would be like this.
Equipped with the Rising Striker, a new backpack based on the Rising Striker.
The Rising Striker can be separated and recombined during battle
It is the ultimate Strikefly with greatly increased firepower and enhanced mobility with curved beam cannons.
"Strike Freedom Gundam Kai".
It is a setting with a backpack separation function and additional repairs for small VL.
The VL equipped on the waist allows for highly maneuverable combat even when the backpack is detached.
A latch is also added to the VL unit, and a new rifle can be suspended.
The separation and combination function is based on the Justice series machine.
Rising striker.
When separated, it transforms into flight mode.
Equipped with a deployable manipulator at the bottom of the booster, it is possible to equip firearms and fight.
Although it is difficult to see, it is also possible to perform an assault battle with the tail blade that is the nose.
High matte mode.
Since the VL on the waist can be used even when the Dragoon is not firing, it can demonstrate high combat maneuverability regardless of whether it is in or out of the atmosphere.
It is a combination of MGEX Strike Freedom Gundam and Striker before renovation.
I felt fat somehow, so I decided to extend the abdomen and ankles.
A total of 10 mm lengthening of the abdomen and ankles.
In order to adjust the balance of the body shape, the upper arm is also extended by about 3 mm by inserting a spacer.
The saber is also processed and installed in PG size.
The rifle also has a new model with a long barrel.
The armor is original, but the gun barrel and grip are from the RE Gundam Mark.III.
The gun barrel for the left hand rifle is transformed and united.
It is a new type of articulated rifle.
Work by morish
https://x.com/o15rxnhql8nvfyw/status/1689585573038854144?s=46