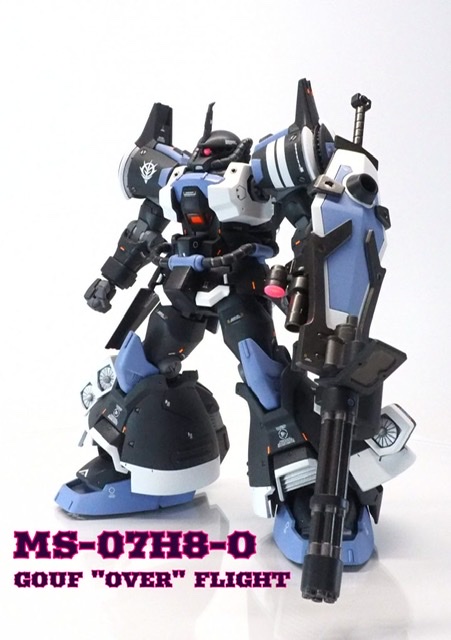 A beautiful Gouf customized! Images, info and wip
From the modeler:
I wanted to try painting black, so I chose black as the main color, white and violet for the sub, and orange with clear abdominal parts for the accent.
Black uses black and German gray properly.
For the detail improvement, I added streaks and engravings, embedded color chips in them, and painted them separately.
The color chip was made by painting a 0.3mm square bar or 0.5mm square bar in fluorescent orange.
Heat saber on the right, left
Equipped with a triple 35mm Gatling gun.
The tip of the heat saber has been sharpened.
The thruster nozzle is painted with 4 artist marker silver on the outside and fluorescent orange on the inside. Although it has a matte finish overall, I tried to emphasize the metallic feeling by making only the thruster nozzle glossy.
If I did something a little different this time, I'm adding parts made from junk to the side of the shoulder parts.
Is it an intake port, an exhaust port, or a heat sink? I haven't decided on a role yet, but it should be playing a role in improving 3D mobility.
Equipped with Gatling shield.
The armament is based on black iron color, baked iron color, and painted in German gray as well as the main body.
The color chip is fluorescent orange, and the mono-eye and 35mm Gatling scope is a resin mixed with fluorescent pink, so it glows with black light.
I also painted the clear parts of the stomach with fluorescent orange on the inside.
The kit used is "HG Gouf Flight Type (21st CENTURY REAL TYPE Ver.)"
The entire mold has been re-engraved and streaks have been added.
The inside of the nozzle, the outlet for empty cartridge cases, and the muzzle are also open.
Since there was a limit to the movement of the ankle with the kit left, I scraped the interference part and processed it so that the legs could be opened wider.
The additional parts on the shoulder and the back side are not so visible, but I'm doing my best to make it.
The surface also has a few streaks and hole details.
I made a base with a plastic plate cut out with a compass cutter and attached it to the kit body.
I did my best to paint differently!
Painting is basically done with an airbrush. Partially painted with 4 artist markers and Gundam markers, Vallejo washing color, and matte coat with GSW matt varnish.
Work by Caitsit24706382 (twitter account)