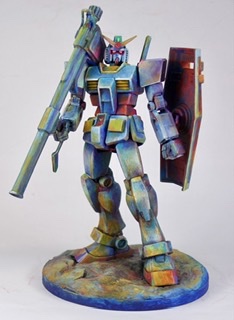 Beautiful realization by 館長 ENTRY GRADE RX-78-2 Gundam (Lite Package Ver.) images, thoughts and info
Before the info from the Modeler about this work I wanna remember to all of you this:
RX-78-2 Gundam from ENTRY GRADE is here! "Next Generation First Gunpla" is born here!
Appeared in specifications that many people can enjoy at an affordable price! The package uses a PP bag!
Consists of all 67 parts. (Weapons are not included.)
Completed just by assembling the parts. Not only painting, but also sticking a sticker is unnecessary.
Touch gate specifications that can be easily removed by hand without using nippers.
The runners are easy to understand because the parts are arranged together for each part.
Movable parts that move well and bend well.
Bold and excellent parts division.
The black outline of the camera eye is expressed by the shadow that can be used as the clearance between the parts.
accessories
Runner x 2
Instruction manual x 1
Price 550 yen (tax 10% included)
It's important to know that it costs only 550 Yen and the paint work of this "easy gunpla" in my personal opinion is amazing. I m just thinking about my previous post… 220,000 Yen for the Gundarium Alloy Model…. I m still laughing. Anyway, I love so much this work.
From the Modeler:
Bazooka and shield were diverted from other kits to EG Gundam (lite package), the base was made by myself, and finished with Vallejo and acrylic gouache brush painting.
Steps:
Assembly completed
Blowing black and white with a lacquer can spray
Add blue
Put yellow
Put red
Put white and the undercoat in Vallejo looks like this
Overpainting with acrylic gouache
Making the base