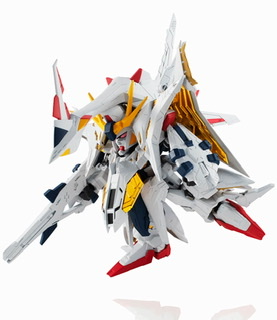 NXEDGE Style MS UNIT Penelope: new official images, release date, full info
In addition to the NXEDGE STYLE's characteristic "edge" design arrangement, "place plated parts at key points of the MS to express the mechanical feeling peeking from the armor" "newly shaped joints, along with increasing the amount of information when moving Three-dimensional by incorporating "increased range of motion". In addition, it can be replaced with "Odysseus Gundam".
Product details
Plated parts are used for each part. Achieves a more three-dimensional color expression in combination with the main body coloring such as white, red, and blue.
By adding a unique design arrangement based on the image in the play, the presence as a "mecha" is concentrated in a feeling of size of about 120 mm. The characteristic shoulders, arms, and chest of the aircraft are expressed with volume.
The large volume tail stabilizer is movable.
The included beam saber effect can be attached to the shield.
The FF (fixed flight) unit is removable and the "Odysseus Gundam" can also be reproduced. The amount of details when moving is increased by newly modeling the joint.
Product details
Product specifications
Overall height: Approximately 120mm
Material: PVC, ABS
Set contents
・ Main body
・ Beam rifle
・ Beam saber effect x 2
・ Shield x 2
・ Replacement wrist left and right
Release Date: July 2021
Price: 7,040 yen (10% tax included) 6,400 yen (excluding tax)