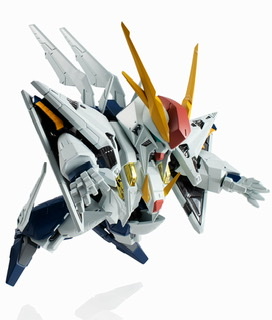 NXEDGE STYLE MS UNIT Xi Gundam: new images, full info, release date
The RX-105 Ξ Gundam (aka Xi Gundam, pronounced "Ksi Gundam") is a mobile suit that appears in Mobile Suit Gundam Hathaway.
Product details
Plated parts are used for each part. The gold plating on the chest gives off a high presence. The back of the shoulder is plated with gunmetal to improve the detail when moving.
By adding a unique design arrangement based on the image in the play, the presence as a "mecha" is concentrated in a feeling of size of about 100 mm. The characteristic shoulders, arms, and chest of the aircraft are expressed with volume.
The stabilizers on the back can be moved up and down.
Newly modeled joint parts. The back and forth movement of the lumbar region has been added, enabling more dynamic poses.
Includes beam rifle, beam saber, and shield. The beam saber effect is reproduced with metallic green paint.
Product details
Product specifications
Overall height: Approximately 100 mm
Material: PVC, ABS
Set contents
・ Main body
・ Beam rifle
·shield
・ Beam saber effect x 2
・ Replacement wrist left and right
Release Date: July 2021
Price: 6,160 yen (10% tax included) 5,600 yen (excluding tax)