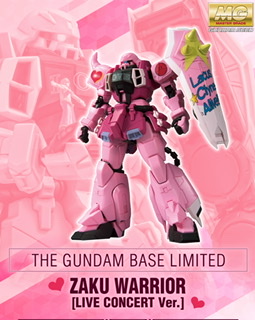 New Mold: MG The Gundam Base Limited Zaku Warrior Live Concert Ver. Many images, full description, release date
"MG 1/100 Gundam Base Limited Zaku Warrior (Live Concert Ver.)" Will be released on March 12, 2021 at Gundam Base Tokyo / Fukuoka.
Description of item
From "Mobile Suit Gundam SEED DESTINY", the Zaku Warrior that appeared at the live concert of Meer Campbell is reproduced
1/100 new modeling Meer Campbell is included!
Water slide decals for live concert Ver. Are included! A cute design with haro and heart shape!
The power pipe adopts insert molding, which greatly improves the ease of assembly!
The pipe is made of soft resin and can be moved according to the movement of the legs. It is a part that does not have a process of assembling by integral molding.
Price: 4,180 yen (10% including tax)