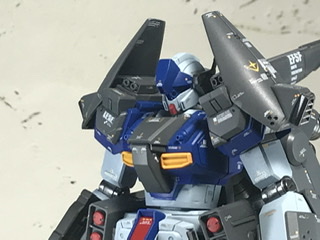 Custom build HGUC Stark Jegan type ASSAULT: full info, images too
From the Modeler:
Stark Jegan type ASSAULT
One of several variations developed based on the data obtained from Proto Stark Jegan, which was operated during the Second Neo Zeon Conflict, the aircraft deployed to Rondo Bell.
Additional thruster units have been added to the backpack, shoulders, and legs, and it has more mobility than the Jegan D type as well as the formal adoption type.
Equipped with a pair of double machine cannons on the shoulders. Although its power is low, it automatically supplements targets such as checks and approaching missiles, and also plays a role as an automatic defense device.
The beam rifle is equipped with the same type as Jesta.
The muzzle part is different from Jesta, but there is no difference in performance.
With the additional thrusters on the shoulders, a miniaturized triple missile pod can be installed on the waist as an option. Its power is inferior to that of the formal adoption type, but it is sufficiently powerful for fixed targets and close combat.
The beam saber is the same type as the normal machine and is stored in the arm. This machine, which has many close quarters battles, is not equipped with a grenade launcher, and a beam saber is standard equipment.
Due to the increased mobility, the operability became peaky and it was not adopted as a formal system, but this machine has been adjusted in each part and will continue to be operated by Rondo Bell.
The detailed toning is unknown, but I would like to continue using the virtual-on color "Frame Metallic 1" used for the joints.
I feel that the decals have been pasted a little too much, but I think it is a good accent.
It took a long time from here to completion …
The additional armor and vernier of the legs are arranged with reference to the Zaku II R type.
With the original plan, the backpack remained the same. HGUC S Gundam backpack is narrowed and equipped.
Work by: アマダヌ
aka: amadanu on Twitter