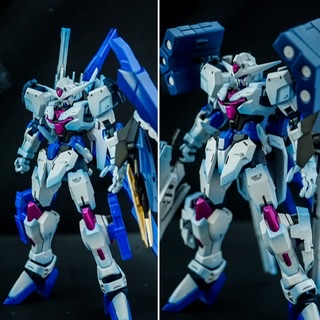 Custom build: HGBD:R Core Gundam Quadriga. Many images, info
From the Modeler:
a mixing MS based on Core Gundam II.
for the explanation of the MS, the quadriga (4 chariot) changes into 4 forms depending on the combination pattern with the support MS after the name.
I said that I wouldn't use it as a core Gundam, but I'm lonely if there is nothing even if I don't do core docking, so I made it in the image of a striker pack system.
Basic form, Quadriga Zero Style
Style that is good at standard turning
Armed with beam saber x 2, shield, spray gun, saber claw
The saber claw has a hook-shaped real sword on the back side of the hand and a beam saber on the palm side.
Support Machine Sword Striker & Launcher Striker:
Call depending on the situation and support attack, or eject equipment and combine with the quadriga body
Quadriga sword style:
A style specializing in melee attacks with sword striker equipment
Armed with Buster Beam Sword, Anchor Shield, Short Beam Saber (stored in shoulder rest)
With blue wings and shoulder rests, I'm aiming for a cloak-like feeling.
Buster beam sword and short beam saber are the main weapons
Quadriga Launcher Style:
A style specializing in long-range attacks with launcher striker equipment
Armed with twin beam cannons, missile pods, articulated beam rifles
The twin beam cannon on the back can be pulled out to the entire surface with the arm
Quadriga Perfect Style:
So-called all-loading style that supports all ranges
Armed with sword, launcher and dragoon x 3
Work by: カミオ
aka: caim619 on Twitter