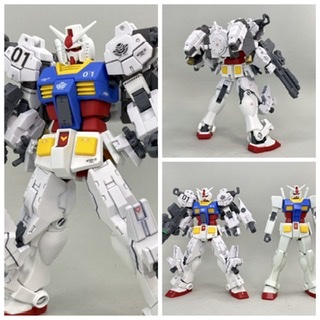 Mixing build EG 1/144 Rabiot Gundam: images, info and credits
This is a mixing work of EG Gundam and 30MM "Rabiot". Rabiot's limbs looked good on the Gundam's torso, so I mixed it with several 30MM kits.
I did my best to convey the wonderfulness of 30MM!
The main armament is a large beam rifle made with a 30MM Rabiot weapon. A clear runner piece is embedded in the scope part.
Sub-weapon sealed beam launcher. Created using 30MM series "Air Fighter" parts.
back. All backpacks are also made with a 30MM kit. Image of carrying an energy pack on the back.
Pose during flight. Acceleration and posture control are performed with thrusters on the back and knees.
Comparison with normal EG Gundam. Rabiot parts widen the overall width, giving it a massive feel.
Work by 田中重工業
@hobbyseidai on Twitter