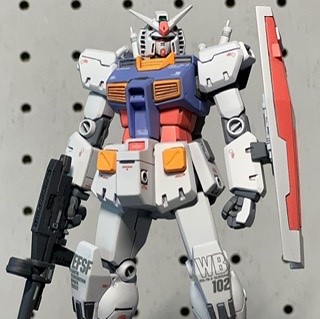 How to transform the HGUC 1/144 RX-78-2 Gundam in Ver.Ka: full info, images
If the HGUC Origin Gundam is the 2020 standard Katoki Refine Gundam, if you make a Gundam with Sentinel 0079 specifications based on it, will it be the current standard ver.Ka? I started thinking about it.
Despite being away from Gunpla for a while, there was a moment when I regretted having easily started working on a design that also had scratches, but I continued to work for less than three months. I managed to complete it.
= Painting recipe =
White –Mr. Base White (Can Spray)
Below, acrylic brush painting
Red-Flat White / Fluorescent Red / Clear Red
Blue-Flat White / Purple / Fluorescent Red / Clear Blue
Yellow-Flat White / Fluorescent Orange / Clear Orange
Neutral Gray / German Gray / Metallic Green
The HGUC kit was mixed, and the antenna was diverted from EG Gundam.
A combination of diversion parts. The parts of GM Kai on the arm are almost the same as the appearance.
The body should cover Origin Gundam with GM Custom. The collar is shaped based on Origin Gundam.
The red part of the abdomen is used as it is.
The shoulders are also covered with GM Kai's joints, making use of the joints of Origin Gundam.
Legs with many modifications. Based on GM Custom, the toes are GM Kai and the knee armor is Origin Gundam. The shape of slippers and joints is changed with plastic material. The connection between the ankle and slippers is a ball joint so that the line from the ankle armor is gentle.
The school bag is made from plastic materials and Kotobukiya parts based on Origin Gundam. The vernier is too trumpet-shaped, so I shifted the base and changed it to a slightly buried balance.
The shield incorporates the characteristic design of the ver.Ka version based on the one of Origin Gundam. The white edge with a wide tip remains as a remnant of diversion.
The main work parts are gathered together, and it is in the state before being thrown away. The head has changed a lot from now on.
Work by U-TA
aka: nextedgedisco on Twitter