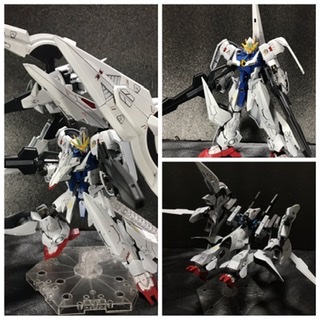 Big Mixing Build HGUC 1/144 Gundam Telemachus (Penelope based) many images, info and credits
Gunpla used:
Exia dark matter
Gundam Aegis Knight
Gundam Epion
Grimgerde
Zeonic Sword
Fake ν unit
I made it with the idea of the successor to Penelope.
Including from the concept, it took about 4 months, but it was finally completed
This Telemachus was imaged as a successor to Penelope, but I tried to make it smaller while installing Minovsky flight, but in the end I felt that Anaheim's bad taste came out lol
There were quite a few junk parts, so I tried to use all of them, but in the second half I wanted to take care of the silhouette, so I subtracted it
The beam saber is attached to the arm so that you can feel the design of Penelope.
And this time I tried "variable" for the first time!
By the way, Telemachus seems to be the son of Odysseus and Penelope in Greek mythology, isn't it?
I'm not so familiar with Greek mythology, so I looked it up and chose this name.
Work by dope
@dope1031666 (dope666) on Twitter