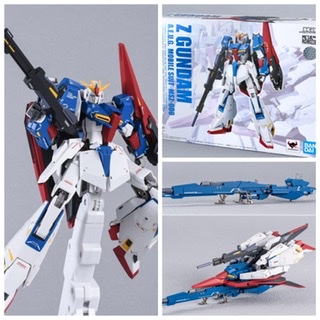 Tamashii Nations' Review: METAL ROBOT魂 Ka signature Z Gundam and full info
"METAL ROBOT Spirits (Ka signature) Ζ Gundam" will be released to the general public on June 19, 2021.
Description of item
METAL ROBOT Spirits (Ka signature) SIDE MS Ζ Gundam
Price: 16,500 yen (tax 10% included)
Release date: June 2021
General store sales
In the Ka signature series completely supervised by Mr. Hajime Katoki, a variable specification Z Gundam with a size of about 140 mm and die casting has appeared!
The main character "Z Gundam" of "Mobile Suit Z Gundam" is now available from Ka signature! Equipped with proportions arranged by Mr. Hajime Katoki and a transformation gimmick to a wave rider. Die-casting is used for a part of each joint to achieve both texture and strength in addition to a feeling of weight. Landing gear parts are also included, and the parked state can be reproduced by replacing.
Product details
Under the complete supervision of Mr. Hajime Katoki, Z Gundam appears in Ka signature
A stable deformation mechanism is realized by a movable frame using die casting.
While equipped with a deformation mechanism, the proportions of the mobile suit and wave rider are fully reproduced.
Posing as a mobile suit is also reproduced with a natural form that does not remind you of a variable MS
Various main weapons such as Hyper Mega Launcher and Beam Rifle are also included
Die-cast landing gear reproduces stable parking condition
Markings devised by Mr. Hajime Katoki are given to various parts of the main body and weapons
The grenade launcher is equipped with a cartridge replacement function as well as a hatch opening and closing mechanism.
High-power beam saber blade (large) can reproduce powerful scenes
Hyper Mega Launcher can be connected to the Z Gundam body with a dedicated arm
Product details
Product specifications
Overall height: Approximately 140 mm
Material: ABS, PVC, die-cast
Set contents
・ Main body
・ Replacement wrist left and right 4 types each
・ Two types of replacement antennas (closed / movable)
・ Hyper Mega Launcher
・ Beam rifle
・ Beam saber pattern x 2
・ Beam saber blade x 2
・ Beam saber blade (large)
・ Hyper Mega Launcher Connection Joint
・ A set of dedicated joints
・ A set of dedicated pedestals
・ A set of landing gear parts
Price: 16,500 yen (tax 10% included)