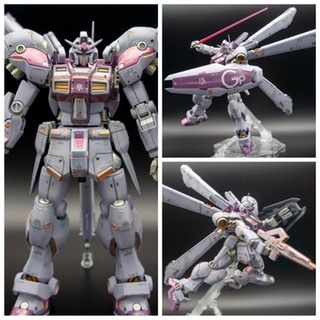 RE/100 GUNDAM GP04G GERBERA ExotericSapphire original color: images, info paint
Gundam prototype No. 4 gerbera.
I colored it with the image of purple gerbera.
I used the marking sticker included in the kit for the first time, but it's difficult …
The purple part is painted in the order of Gunmetal Surfacer → Clear Purple → Crystal Color Ruby Red → Clear.
Silver on joints and hands is painted as silver surfacer → crystal color topaz gold → clear.
The basic color of the body is Mechasaflight → Flat White + Cobalt Blue + Flame Vermilion (appropriate for each) → Flat clear.
The one-point part uses Mr metal color gold, Gaia color pearl copper, and Gaia color star bright duralumin according to the base and location.
(Only for pearl copper gun metal or silver base)
The kit itself is unmodified.
Work by @vf1606 on Twitter