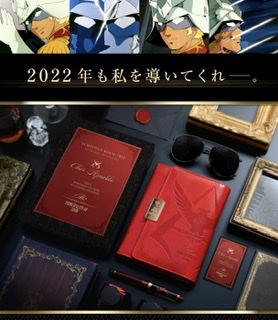 Premium Bandai Char Aznable schedule book 2022: full info, full official images, release date
From 13:00 on July 27, 2021, orders for "Mobile Suit Gundam Char's Notebook 2022" will begin at the Sunstar Stationery Store in Premium Bandai.
Description of item
This product is a special 2022 edition notebook with the motif of "Char Aznable" that appears in the anime "Mobile Suit Gundam".
Char Aznable, a man who has a passion behind the mask and lives for his own beliefs.
The practical and portable B6 size notebook uses a calm deep red polyurethane material for the cover, which is easy to use for business or private use.
The 2022 notebook cover is a luxurious tri-fold type.
The cover is a magnet type and can be opened and closed smartly.
The inside of the cover has parts such as side pockets, card pockets, and pen holders that are convenient for a little time, and it is also fully functional.
The surface of the crimson notebook has a metal fitting with a luxurious dog tag-like design, and it is boldly embossed.
Along with the personal emblem, it strongly impresses Char's exclusive use.
When you open the cover, the name of Char Aznable is stamped with gold foil inside, and you can feel the presence of Char every time you open it.
We will put it in a special paper box and deliver it as a set with a business card style card.
In the body of the notebook, Char's personal data and boarding mobile suit information,
"I don't want to admit it. I make mistakes because of my youth." "Because I'm a little boy."
A collection of quotes from Char Aznable, a person correlation chart, a chronology of the One Year War, etc.
Full of Char's related information pages.
This notebook has a total of 192 pages, including monthly pages, memo pages, and information pages.
The monthly page (January-December 2022) features a large frame space that is easy to write and allows you to see the schedule for one month at a glance.
The memo page with a simple and easy-to-use design supports many memos in everyday and business situations.
The illustration art on the memo page incorporates Char's active scenes abundantly.
It is designed so that you can experience the flow of the "One Year War" that started for the Principality of Zeon to achieve independence from the Earth Federation Government.
set content
Notebook with cover … 1 book
Individual box … 1
Business card … 1
Product material
Cover / PU / Nylon / Magnet
Metal fittings / zinc alloy
Book / Business card / Individual box / Paper
size
Cover / approx. W150 x H200 x D25 mm
This book / approx. W125 x H178 x D10 mm
Business card / approx. W90 x H55mm
Individual box / outer dimensions approx. W173 x H233 x D35 mm
Production area
Cover / Business card / Individual box / China
Book / Japan
Selling price: 4,400 yen (tax included)
Delivery date: Scheduled to be shipped in November 2021
機動戦士ガンダム シャア専用手帳2022
Selling price 4,400 yen (tax included)
Earn points 44P
Reservation acceptance starts July 27, 2021 13:00
Delivery date Scheduled to be shipped in November 2021