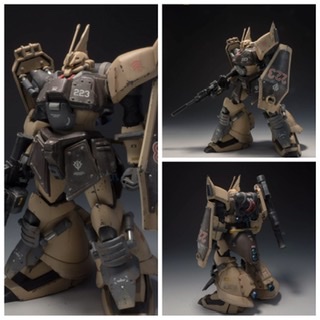 Remodeling Work: HGUC 1/144 Gelgoog Jager ground battle type. Many images, work in progress too, full info work
From the ground base, we requested the supply of MS such as Dom and Gouf Custom, but due to the confusion of the supply line in the latter half of the war, Gelgoog Jager was distributed for some reason. It is a delusional MSV that I decided to repair and operate Gelgoog Jager for the ground because I can not afford to send it back or wait for additional reinforcement.
The legs and cockpit are equipped with increased armor to enhance defense.
Equipped with Gouf Shield stored at the base.
The backpack omits the attitude control vernier.
The propeller tank is replaced with a small one.
The armor on the right shoulder has been destroyed, so…
A small GM ground battle type shield captured on the battlefield is modified and installed.
A vernier thruster has been added to the legs to allow hover movement on the ground.
Shooting armament ①
MMP-78 Zaku Machine Gun Long Barrel Custom
Since the beam machine gun was not distributed, the MMP-78 Zaku machine gun was modified to make it a long barrel. The magazine is replaced with a drum magazine. The scope has been changed to a high magnification one.
Shooting armament ②
H & L-SB25K / 280mm A-P modified
Short Zaku Bazooka
The short bazooka can be hung on a small shield on the right shoulder.
Fighting armament
Beam Naginata for Gelgoog
Before damage to the right shoulder armor
Initial examination stage
The shoulder shaft is made into a ball joint.
By making it a ball joint, it can be moved at various angles.
The rear skirt has been modified to be movable.
The specifications are almost finalized.
The torso and thighs are extended by 2 mm, and the front skirt and side skirts are extended by about 4 mm.
Repaired so that the mono eye can be moved.
Work by CAWORKS_0518 (Instagram)