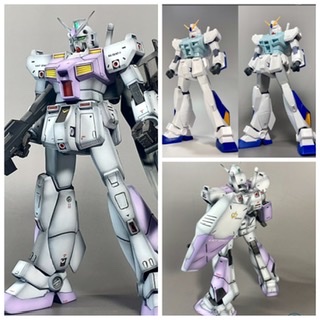 Remodeling work: HGUC Gundam NT-1 Alex. Images, info
HGUC Gundam Alex has been completed.
The original kit is too bad in style, so I changed it to my favorite style.
The body is completely replaced with GM Custom
Extend with thighs and ankles.
I changed the color just before. If I changed it anyway, I should have changed it to a warm color system completely …
Deploy the Gatling gun where you put it.
I also don't make Armor.
The finish looks the same as usual, but I like it quite a bit in terms of style.
Since the armor parts behind the waist are movable, the S-shaped standing can be decided neatly.
Thigh extension and streaks.
Work by coloneltetsu1028