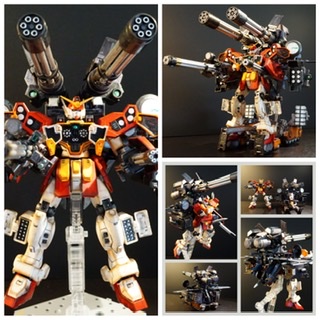 Mixing Build HGAC Gundam HeavyArms Hellfire: images, full info and credits
A Gundam with the theme of Hellfire, which pursues overwhelming firepower with Heavy Arms x Reinforced Mecha.
I made it with the image of being combined with the ground version GN Arms-like support mechanism. You can also separate the flight unit from the Panzer and switch to flight / space mode.
While EW Igel emphasizes missiles, the point here is that it emphasizes Gatling.
As a result of thinking about how to carry an oversized giant gatling gun, I decided to ride on the tank as it is rather than on the track type.
The flight form separated from the support mechanism enables dream aerial maneuver warfare!
The angle of the two Gatlings can be changed with a pole joint.
Full open attack from flight mode
The point of the backpack is that the parts are arranged so that the Gatling connection part is hidden from the front view.
I tried to summarize the cuts in the arm's separated state.
The swiss army knife is an irrational and favorite armament… I might use it if the right hand armament runs out …! ??
The tail on the back also serves as a connection between the Panzer and the flight unit.
I placed a lot of thrusters and used a lot of gold and red so that the back looks gorgeous.
The most confusing part is the connection structure between the Panzer and the flight unit.
A small rotating pole joint that connects the tip of the thruster to the Panzer plate and rotates to fit. A joint was also attached to the thruster to avoid interference.
In addition, the legs of the MS can be sandwiched and fixed.
It is up of Hellfire Arms.
Panzer is a basic gunmetal, but I put metallic orange and weathered it with rust and soot so as not to be too plain and disturb the main body of beer.
The flight unit is mainly painted in metallic dark blue and metallic black.
The arms are separated.
How much power can be added with additional items while keeping the main body of the heavy beer? I tried to stick to.
I would like to connect the flight unit to other Exa Vehicles as well.
Finally, I posted a photo of the examination stage.
I was worried about the freedom of Bolden Arms, but at the end it was integrated with the Kotobukiya missile and I managed to finish it.
Option list:
・ 30mm Exa Vehicle Tank Ver.
・ 30mm optional backpack 1
・ HGBC Bolden Arm Arms
・ HGBC Giant Gatling x2
・ GB Limited System Weapon Kit 005
・ Kotobukiya Missile & Radome x2
Work by @catacco0079 on Twitter