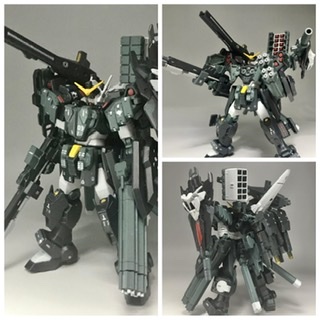 Mixing Build HGAC Gundam Heavy Armored Arms: many images with work in progress too, full info
HGAC Gundam Heavy Arms has been made into full armor with 30MM parts.
It is a heavy-duty type for space that has been strengthened in a well-balanced manner on both the offensive and defensive sides.
back:
The stabilizer for attitude control and the propellant tank at the waist appeal that it is a spacecraft.
Twin beam gatling gun
Heavy Armored Arms main armament and high-pressure rapid-fire weapon
Beam assault rifle
Beam weapon in the right hand, a type that is easy to handle and has a quick fire
Rocket launcher with built-in shoulder shield
An offensive and defensive integrated shooting weapon equipped on the left shoulder
Shoulder homing missile, leg micro missile, back missile launcher
The missiles on the body form a powerful barrage
Buster Cannon
cannon equivalent to the Wing Gundam Buster Rifle
Powerful armament, but full power irradiation is limited to 3 shots
Full open attack
All bullets fired using all of the above armaments
Light armed mode with purged armament
It's only after the bullets run out and there are only knives
Unpainted
I basically added gray parts, so it's still an ant at this point.
Chest gatling gun
I like this painting, I insist in silver
There are two back missile launchers, one with the Bolden Arms assembled normally and the other with the Bolden Arms open.
Separately painted leg micro missiles
All painting is brush painting with Citadel color
White CORAX WHITE, black CORVUS BLACK, yellow YRIEL YELLOW, red MEPHISTON RED, gray MECHANICUS STANDARD GRAY, gold AURIC ARMOR GOLD, silver STORMHOST SILVER
Work by エレハイム